Scallop Season
Scallop Season – Delayed!
(EDIT – the Ministry for Primary Industries announced on the 12th July that the opening of the scallop season for the Sounds and east Tasman bay has been delayed until the 14th February – read more here)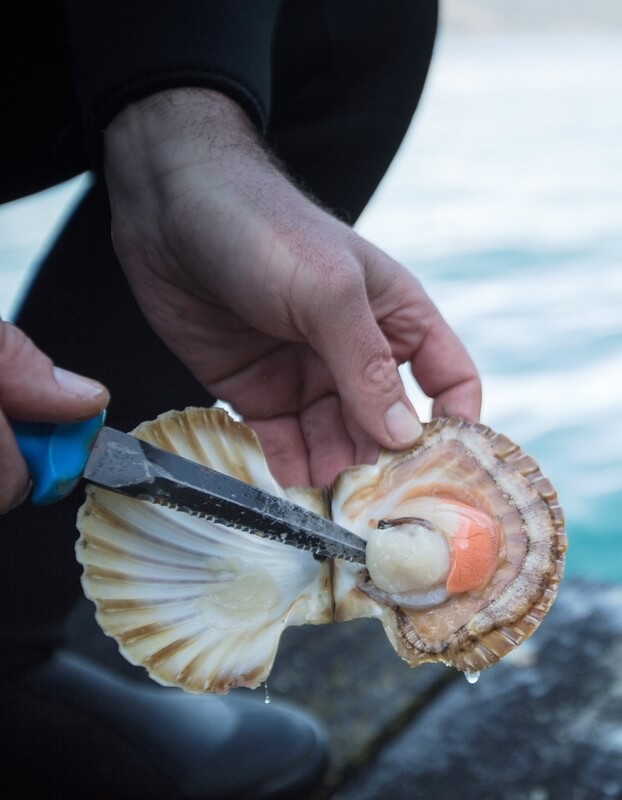 There's nothing quite like the beginning of the scallop season to make you forget about the water temperature! If you're in for a quick winter dive over the next couple of months, be sure to check the MPI guidelines for safe and correct seafood gathering, and rustle up one of these easy recipes after shucking over a couple of cold ones with mates:
Sear them in a hot fry pan- half olive oil, half butter. Salt, minimal pepper, tiny splash of white wine or just squeeze half a lemon over a dozen scallops. Done.
Add diced fresh tomato (a bit of a challenge in the middle of winter…) finely sliced fennel, splash of wine, splash of cream, splash of Pernod/Pastis and some fresh herbs such as parsley, tarragon, not overly potent basil- the latter only to be added just before serving. Gourmet!
Less is more with seafood, so if you're game, give them a go raw- slice horizontally in three slivers, drizzle with quality olive oil, add lemon juice, flaky salt, a dash of pepper. Garnish with broad leaf (Italian) parsley. Delish!
Contributed by Le Café on the Picton Waterfront – just a stone's throw from Picton Marina, where you can bring your catch in to be cooked!