Kaipupu Wildlife Sanctuary
Kaipupu Wildlife Sanctuary
The next time you're boating in the Sounds, consider a stop off at Kaipupu Wildlife Sanctuary.  The bush clad hills are home to a number of New Zealand's unique bird species including tui, bellbirds, grey warbler, kereru, South Island robin and little blue penguin.  The Sanctuary is also a creche for rowi kiwi who arrive as young chicks and are later returned to the wild West Coast forests around Okarito.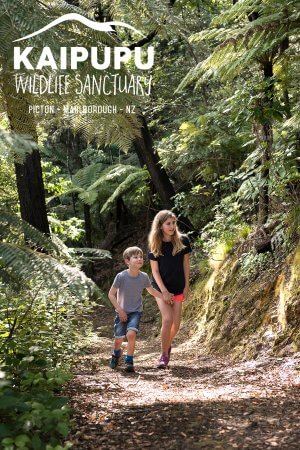 The Sanctuary is made up of land owned by Port Marlborough and the Department of Conservation and has been managed by Kaipupu Point Mainland Island Society and its many volunteers since 2005.  A 600 metre long predator proof fence was installed in 2008 and an extensive pest control programme is in place to rid the mainland island of mice, rats and any other occasional invaders.
The Sanctuary is open to the public and a 2.7km circular track meanders through areas of regenerating bush, stands of beech and tawa and highlights views of the inner Marlborough Sounds.  For young explorers in the family, be sure to visit www.kiwiguardians.co.nz before your trip and download the Kaipupu Wildlife Sanctuary adventure map.  Find the guardian post with the code word to earn a guardian medal.

Things to remember:
The northern look out is a great spot for a picnic lunch (remember something to drink!)
For hot days, the jetty is a brilliant place to cool off so remember your swimming togs.
The water ponds attract the birds so stop and enjoy the view.
Please don't take any animals onto the Sanctuary (make sure there are aren't any stowaways on your boat and please don't take your pet dog)
Kaipupu relies on donations to do what they do, a donation box is located near the jetty at the Sanctuary if you would like to support their fantastic work.
If you would like more information about Kaipupu Wildlife Sanctuary or find out how you can help please visit their website www.kaipupupoint.co.nz