Pelorus Boating Club
At the heart of Havelock Marina is the small but friendly Pelorus Boating Club. We asked club manager Michelle Thompson about what the Pelorus Boating Club has to offer those who choose to do their boating out of Havelock Marina-
An Introduction to the Pelorus Boating Club
I have often been asked about the benefits of joining a boating club, and I can't speak for other clubs but I would like to tell you a little about ours. As a club we are primarily concerned about the safety of our members, and with this at the forefront, over the years our club has acquired quite a few moorings throughout the Marlborough Sounds. We share these moorings with Waikawa Boating Club and Mana Cruising Club.
By sharing, it benefits all clubs and keeps the costs down.
One great advantage of joining our club is the use of 3 moorings at Putanui Point should you need to wait for the tide to enter the channel. We are very proud of our Club House and the facilities which our members can access at any time. They have full use of the kitchen, laundry and bathroom facilities and the very comfortable lounge, we even offer free Wi-Fi. You will also find our club fees are very reasonable.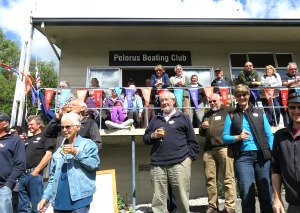 By being a Club Member it enables you to meet and make friends with new and like minded people. Many of our club members have a great deal of knowledge on boating and are usually more than happy to pass their experience onto any new Boaties. When my husband Ron and I first started boating we were lucky enough to meet the loveliest people, particularly when rafted up.
Last but not least the club holds four functions a year, Opening Day, Mid Winter Pie Night, The Christmas Party and AGM with the after meeting Fish and Chip dinner. Attending these functions is a great way to get to know your fellow club members and Committee.
If anyone requires any further information on our club, please feel free to email me I am pretty good at getting back to people or go to our website www.pelorusboatingclub.com
We look forward to meeting you,
Michelle Thompson – Club Manager