Marlborough Sounds Marinas Spring Twilight Series – Races 5 & 6
Marlborough Sounds Marinas Spring Twilight Series – Race 5
A late wind shift saw the unusual sight of the fleet hoisting spinnakers and gennakers off the start line in Race 5 of the Marlborough Sounds Marinas Spring Twilight Series. Light but steady conditions delivered some excellent racing with crews looking to sharpen up their sail handling with the big masthead kites demanding constant attention on the downwind legs. An icy rain shower did little to dampen enthusiasm, many boats and crew having returned from the Wineworks Wine Race on Friday.
In Division 3 Paul Williams' Townson 34 Moonspinner II sneaked home 16 seconds ahead of Family Affair, Dave Roberts backing up well from his Division 2 win in the Wineworks Wine Race third went to another Wine race competitor, David Paul's Spencer 36 Sirrah.
Division 2 saw a great race sailed for line honours by Matt Michel aboard Bump n' Grind, the Ross 830 finishing over a minute and a half clear of Raconteur, Richard Coon's Hanse 400 second ahead of Rob and Mandy Carpenter who brought their Farr 727 Freaky home third. With handicaps applied Freaky took the win just 10 seconds clear of Settimio, Clive Harragan's Raven 26 ahead of the other Farr 727 in the Division, Cheeky, in the hands of Jan Eveleens.
Slick spinnaker and gennaker work featured on the top placed boats in Division 1 with the line honours winner Satellite Spy, Matt Kerr's Ross 40 delivering a great performance finishing well clear of Flying Tiger, the Bill Richards/Wilfried Holtrop owned boat revelling in the light reaching conditions to finish more than two minutes clear of Ash Davey's Beneteau Northern Rebel. Once handicaps were applied the positions changed but the boats remained the same, Flying Tiger taking the win ahead of Northern Rebel with Satellite Spy third.
 At the top of the Division 3 table it's getting quite congested with Free Rein leading from Acamar with Playwright in third. Moonspinner II moves to within 2 points of third with this week's win and with five races to go the series is wide open. Settimio is the pace setter in Division 2 while the latest placings have moved Freaky into second on the table with Bump n' Grind equal with Raconteur in third. Chris Williams takes the Farr 38 Flying Fox to the head of Division 1, a point clear of Khamsin, Dave Kelway's Beneteau leapfrogging previous leader Global who now fill third place after sailing this week short crewed and unable to fly the big sails required in the light conditions
Marlborough Sounds Marinas Spring Twilight Series – Race 6
A sizeable fleet greeted the start in moderate wind conditions for race 6 of the Marlborough Sounds Marinas Spring Twilight Series. With many boats up in crew numbers thanks to the pleasant conditions the scene was set for some great racing with many boats flying spinnakers or gennakers on the downwind legs.
In Division 3 Mark Altoft brought Entertainer home for the win, the Davidson 35 finishing well clear of Bruce Lock's Sea Fox the Lotus 10.6 pipping Ian Michel's Playwright in the line, the Wright 10 only five seconds back in third.
Division 2 saw Settimio take the win, Clive Harragan's Raven 26 beating Sequin by 25 seconds, Bill Crossan's Jeanneau 36 over a minute clear of Laurie McIntyre's Young 780 D'Edge. Richard Coon's Hanse 400 Raconteur took line honours comfortably ahead of Twerry Allen's Hanse Imagine It with Matt Michel third on line with his well performed Ross 830 Bump n Grind.
In Division 1 sail choices proved to be crucial, Midnight skipper Chris Webb getting it absolutely right for the big Davidson 45 to take the win ahead of David Grigg's Beneteau Global with Dave Kelway's Khamsin revelling in the conditions, the big Beneteau finishing third. Division 1 line honours again went the way of Satellite Spy, Matt Kerr's team on the Ross 40 showing some outstanding spinnaker handling skills to see off Bluebird, Bob and Jennie Crum squeezing their J120 home 8 seconds ahead of Midnight in third.
 With six races of the ten race series completed Division 3 is becoming increasingly congested, Playwright (29)  leading from Free Rein, Chris Gorman tied with Greg Cornish's Easterly 30 Acamar (33) and Moonspinner II (36) and Pipe Dream (38) still well in the hunt. Settimio (14) dominates Division 2 ahead of Raconteur (33) Rob and Mandy Carpenter still in the hunt with Freaky (38), their Farr 727 performing consistently well while Bump n' Grind (41) will only require one or two top results to move up the table. Division 1 has tightened up again with Khamsin (18) holding a slender advantage over Global (21) with Flying Fox (25) rounding out the top three. It's safe to assume that Flying Fox skipper Chris Williams will be looking at this result as one to drop after finishing 11th in the race, the Farr 38 unusually off the pace this week.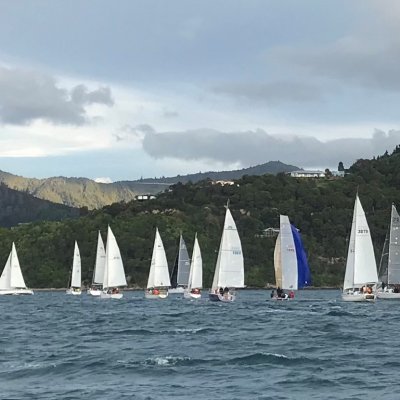 With Karaka Point as a backdrop, it's rush hour at the final mark.