Marlborough Sounds Marinas Spring Twilight Series – Race 6
Light rain and gusty moderate winds deterred a number of crews but 19 boats including an excellent turnout in Division 1 took to the water for Race 6 of the Marlborough Sounds Marinas Spring Twilight series. After the postponement of Race 5 due to a lack of wind the crews were eager to get into their work in the cool southerly.
Division 3 featured a well sailed race from Reacher, Ian Michel registering his second consecutive win in the division well clear of Alex Soper's Hanse 345 Our Girl, with Paul Williams taking third with Moonspinner II.
Division 2 featured an excellent display of course management as Bruce Lock brough Sea Fox home for the double, winning line and handicap, Jason Munro's Hanse Phantasea second on handicap and third on line while Ralph Rosthorn's Lidgard 32 Bavaria came home third. Matt Michel's Ross 830 Bump 'n' Grind managed second on the line but finished well out of the money on handicap.
Changeable conditions across the course saw some yoyoing in the Division 1 fleet, Flying Fox, Rapport, Global and Raconteur nipping at the heels of Satellite Spy, Bluebird and Northern Rebel II. With some boats a little short on crew and with the gusty and changeable conditions proving challenging, several boats opted for a safety first, no spinnakers policy. A coming together at the top mark between Ranconteur, Flying Fox and Midnight saw Midnight preforming penalty turns following a rules infraction. This didn't seem to phase the crew as the big Davidson passed several boats going to the bottom mark. A wind shift on the final downwind leg saw Matt Kerr's Ross 40 Satellite Spy stranded between breeze lines as she was overtaken by Northern Rebel II and Midnight before fighting back on the final leg to finish second on the line behind Northern Rebel II with Midnight 3rd on line. Once handicaps were applied honours went to Jan Eveleens, his Farr 1104 Rapport home 14 seconds clear of Richard Coon's Hanse 400E Raconteur with Chris Williams bringing his well performed Farr 38 Flying Fox home in third. Bragging rights around the table at the next Marlborough District Council go to David Croad bringing his Beneteau Northern Rebel II home ahead of fellow councillor David Oddie who helmed Midnight in the absence of owner Chris Webb.
With five races completed after the postponement of Race 5 last week Our Girl holds a slender lead over Finnistere and Reacher.
Division 2 leader Settimio has a good lead in Division 2 over Sea Fox and Bavaria but will be looking to get back in the groove next week after a disappointing 4th of 5 boats this week.
Division 1 leader Midnight maintained their lead over Coup d'Etat, the two boats finishing in a dead heat for 5th, Bluebird, Ranconteur ands Northern Rebel II all jockeying for position on the table as gains are made.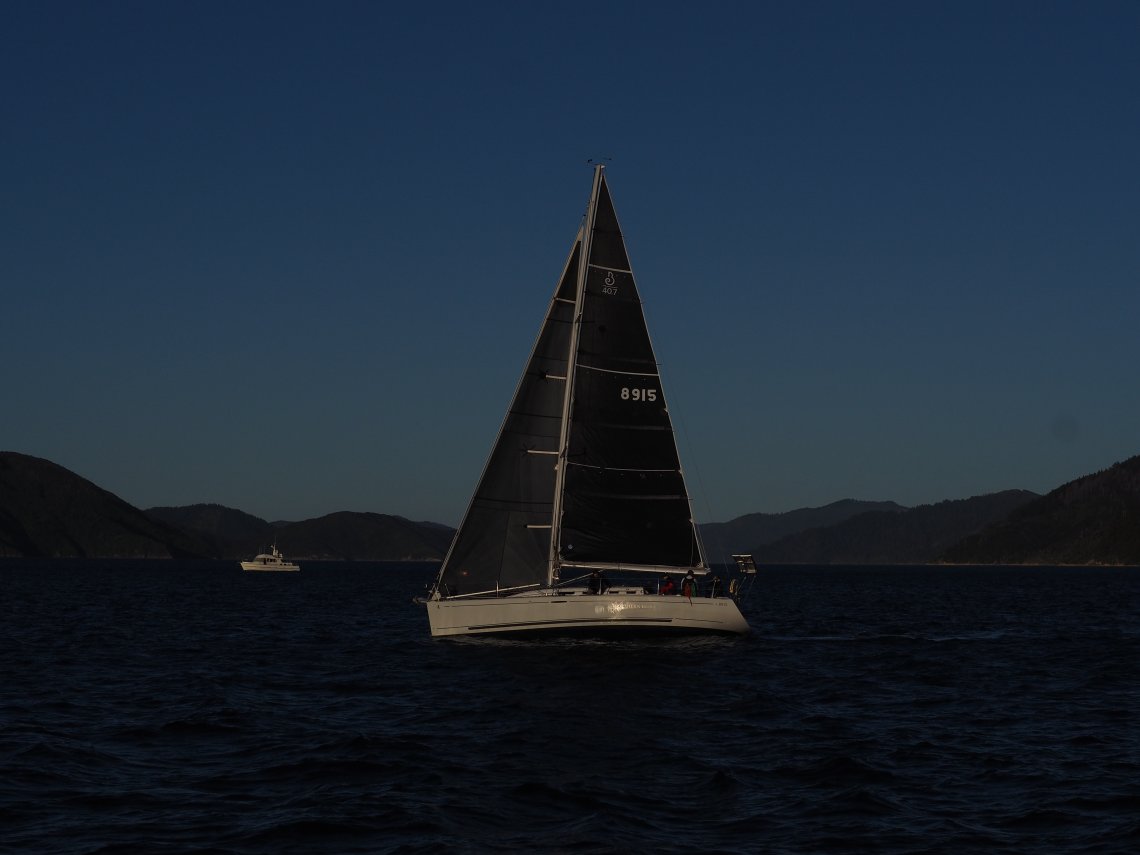 Photo: Northern Rebel II in a recent race in the series.