Marlborough Sounds Marinas Spring Twilight Series – Race 8
Marlborough Sounds Marinas Spring Twilight Series – Race 8
After the disappointment of race 7 being abandoned due to a lack of wind, participants in the Marlborough Sounds Marinas Spring Twilight series were greeted with good racing conditions for race 8 in the series. Moderate winds of 15-20 knots provided opportunity for all while the wind shifts ensured that those reading the conditions best gained an edge.
In Division 3 Bruce Lock sailed a blemish free race, taking Sea Fox the Lotus 10.6 to the win ahead of Jael Pamela and Ellis Wilson's Mirage 30 a clear second ahead of Ian Michel's Playwright in third, the Wright 10 continuing a consistent run of results.
With the first four boats finishing within a minute on corrected time the handicappers had obviously done their job well, Jan Eveleens taking the Farr 727 Cheeky  to the win 36 seconds ahead of Clive Harragan's Raven 26 Settimio with Andrew Wilson taking out third with his Farr 1104 Rapport. Rapport scored a rare win on line ahead of regular line winner Raconteur with Matt Michel bringing Bump n' Grind  home in third.
With a stranglehold on line honours in Division 1, Satellite Spy went into the race with a real chance to pull off the very rare line/handicap double. Handled superbly by the well-drilled crew the Ross 40 fell just 14 seconds short of the double, Bob and Jennie Crum getting Bluebird home second on line but first on handicap despite having some 'interesting moments' wrestling with the big blue gennaker that has become the J120's trademark downwind sail. Third on line and handicap was Ash Davey's Beneteau Northern Rebel Davey doing a great job picking the wind shifts and positioning his boat well on the course.
The overall series results are a statisticians playground at present. With seven completed races in the series, a range of permutations are possible, especially if another race is lost for any reason.
Having delivered excellent results in the four races contested, Sea Fox will be aiming to complete the remaining two races to enable the discarding of two dnc results. At the head of Division 3 Playwright holds a 6 point lead over Free Rein with Acamar  currently in third. If discards were to be applied at present, the leading seven boats would be within a ten point spread, meaning there is still opportunity for a number of boats to move up the points table and onto the podium. Settimio dominates the Division 2 table, holding a commanding 24 point lead over Raconteur  with Freaky sitting just two points back in third. The stage is set for a classic big boat (Raconteur) vs small boat (Freaky) battle for second place in the series while Imagine It, Sequin, Bump n' Grind and Cheeky all have the chance to upset these calculations. Tied for the lead in Division 1, Global (David Grigg's Beneteau) and Khamsin (Dave Kelway's Beneteau) are locked in a battle for the title just ahead of Flying Fox, Chris Williams poised to pounce in the Farr 38 if either of the front-runners slip up. Look for a few crews to be on the water over the weekend sharpening their spinnaker handling as crunch time looms.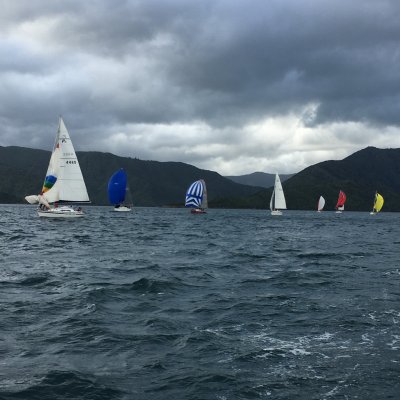 Spinnakers aplenty in race 8 of the Marlborough Sounds Marinas Spring Twilight series.