Pelorus Boating Club
The Pelorus Boating Club is situated in Havelock, with a view that looks right over the marina. It is a small but well-equipped club with excellent shower, laundry and kitchen facilities with a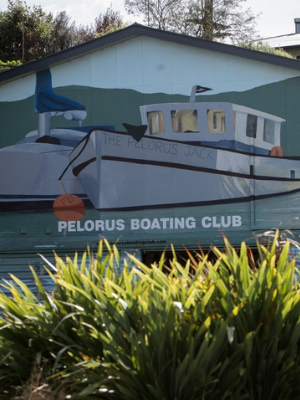 free Wi-Fi lounge area too. The clubrooms are available 24/7 to all financial members who can also book these rooms for small private functions at a reasonable rate.
The club draws membership from all over New Zealand with the majority from the Marlborough, Tasman and Canterbury regions. Currently the membership stands at 525 and is growing – a great club of sociable members! The club has joint ownership with Waikawa Boating Club and Mana Cruising Club of over 100 secure and well-maintained moorings that are located in the best anchorages throughout Pelorus, Kenepuru, Queen Charlotte and D'Urville Island. These moorings are available to all financial members.
The Club has a depth of in-house expertise in marine matters. This enables the Club to ensure, by representation on relevant organisations, that members' interests are considered in any decision making on significant local and national issues such as Fisheries and Aquaculture or the environment in the Sounds and Navigation.
Pelorus is a family orientated boating club that welcomes everyone who has a passion for boating. As a member of an enthusiastic and friendly boating community, there is the opportunity to enjoy events and social times together with other members on and off the water.
The Clubs joining fee, which includes the first annual subscription, is $360 and the annual subscription thereafter is currently set at $175.00. For an application form or further information please call the Club Manager on 022 646 8048
or email clubmanager@pelorusboatingclub.com