Vessel Profile – Steadfast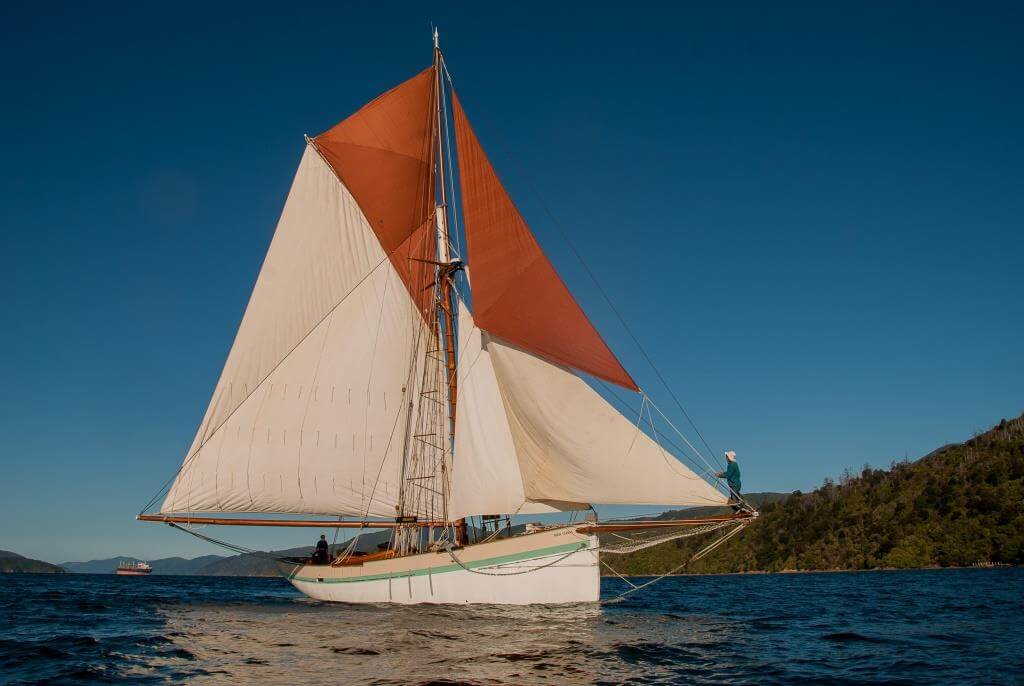 Steadfast, the big gaff cutter often seen under sail in Queen Charlotte Sound,is a replica of a French pilot cutter from 1913. She is 58 feet LOD, sets 2,500 square feet of sail, displaces 40 tonnes, and with a five metre bowsprit and offset prop, can be a real handful when manoeuvring.
Owners Laurence and Grace Etheredge, who live at and manage the DOC campground in French Pass, often joke about the entertainment they provide when they approach their home wharf. A poorly timed gust of wind can throw quite a spanner to the task of mooring the great vessel. They don't always have this challenge, though, as Steadfast spends most of the summer at Picton Marina.
Laurence started building her in Albany, Western Australia, in 1990. He reckons it actually took about eight years of full time work to build Steadfast, although he launched her 16 years later, following a few long interruptions including time spent planting a vineyard and establishing a wine business.
It was then that Laurence and Grace set their sights for the Marlborough Sounds. Steadfast's maiden voyage was across the Southern Ocean from Albany to Sorrento on the Mornington Peninsula, down to Hobart for the 2007 Wooden Boat Festival, then across the Tasman to Picton.
Built heavily of jarrah, with sawn frames on 18" centres and 1¾" carvel planking, caulked with oakum and making use of local sheoak (Allocasaurina) for the varnished hatches, skylights, and decks, Steadfast now spends her days doing small group charters and school activities for youth, such as the recent day out for Blenheim School.
Next time you pass the mighty Steadfast, be sure to wave at this traditional beauty.