Vessel Profile – Varua
Gavin Cooper, director of GDC Consulting Ltd, owns a vessel in one of our marinas that will forever connect himself and father, John, together. Varua was built in 1959 in Blackwood Bay, along with many of her sister-ships by Swanson boatbuilders. Once Gavin returned to the Sounds with his wife Leanne to enjoy the idyllic landscape that keeps him sane, it was time to buy a boat…
It's a father-son project that neither father nor son expected.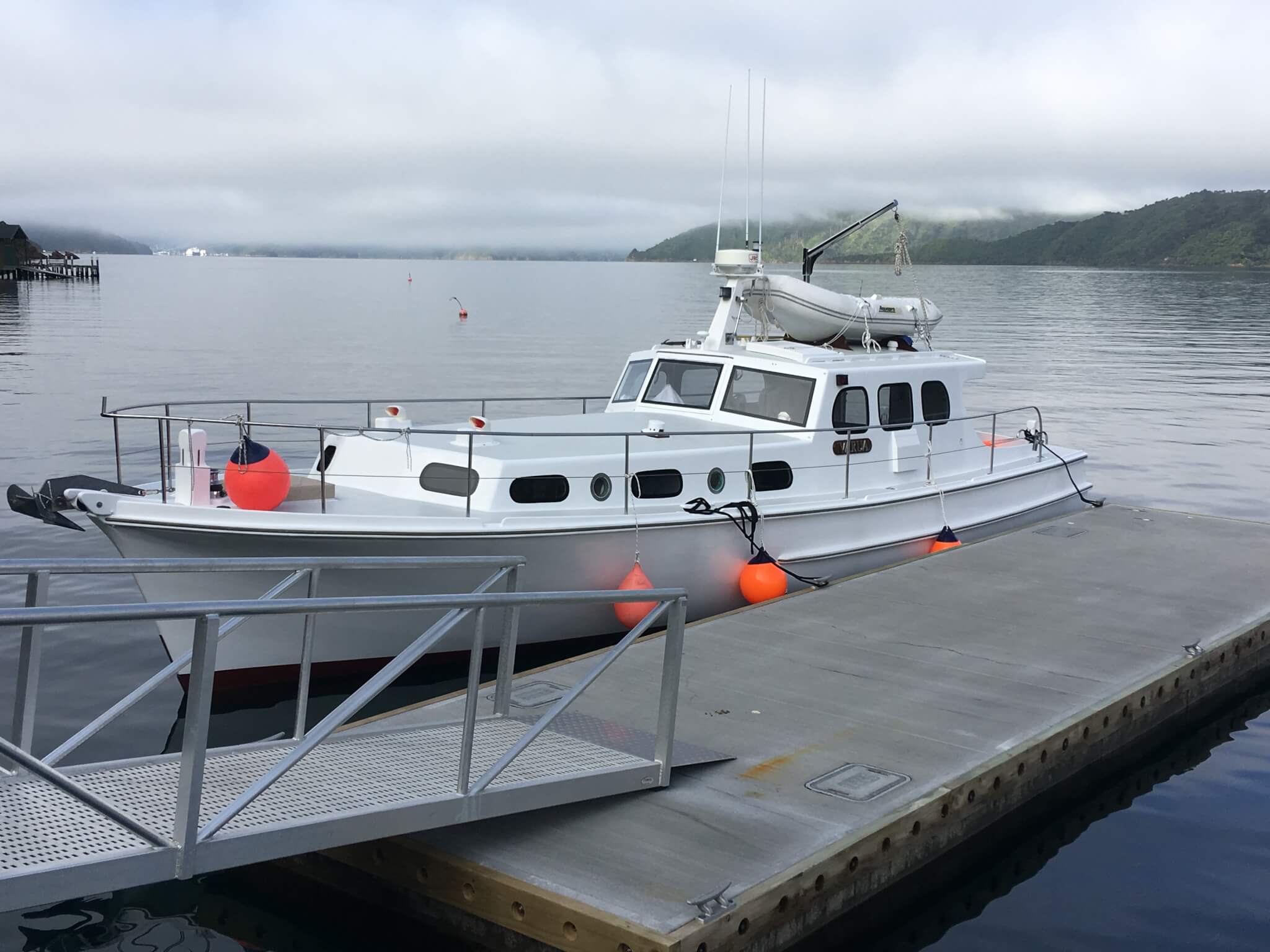 She's called Varua, a 1959 Blackwood Bay beauty who lives at Waikawa Marina and is the object of two generations of Cooper men's hard work and devotion.
At 12.2 metres with a 3.35m beam and drawing 1.3 metres Gavin Cooper describes Varua as the "perfect Sounds boat".
The Swanson launch is kauri planked, with timber decks and cabin; she has a 135 horse power, six cylinder Perkins diesel engine and can get up to 10 knots.
Gavin bought Varua in 2014, coincidentally 10 years after his late father, John Cooper, completed a re-fit of the vessel.
"My old man rebuilt her in 2004 which we redid in 2016 but this time we just did a face-lift," he says.
John fit new engines, a propeller and dripless seal as well as re-painting the exterior. Since buying her, Gavin says he has just given Varua "some love and care".
It was a coincidence that Gavin was looking to buy when Varua came onto the market.
"I came back from overseas and was looking at it on and off, it was the best of a bad bunch but she's a good old vessel with really good bones.
"The boat builders really knew what they doing and as my father said: It was my turn."
Since taking the Bob Swanson beauty on, Gavin has enjoyed a lot of family time on her around the sounds.
"We've had the whole family on board – my daughter has been on it and my Dad, prior to passing away."
Even after John died, he has still had a say in the work that needs to be done to Varua, leaving behind a lasting gift for Gavin to refer back to.
"He wrote lists for me, of things I needed to do on the boat and I still use them today."
Gavin's favourite spot in the sounds is around Tory Channel, because it is idyllic and not quite as busy as some other places.
Prior to coming back to Waikawa, Gavin and wife, Leanne, lived in the UK for eight years – spending most of their time in London and Wales.
What started as an OE ended as a successful career move for Leanne who is a professional golf coach for PGA.
However the call of home eventually got too much and the two moved back to Marlborough.
"The young usually leave this area to study or travel but we all come back supposedly because of the lifestyle, it was the Sounds for me," Gavin says.
The idyllic nature of the sounds is a drawcard for many people to the region and Gavin says from a boaties perspective, he can understand why.
"People own boats because when you get out on the sea, you forget everything. It's just a release, you don't have to go far to be nowhere – it keeps me sane."
At 58, Varua, has had some adventures in her time. She left the Sounds to go to Auckland, Mana and eventually made her way back down to her original stomping ground.
"She's almost 60-years-old and the timber would be older. If I look that good at her age I'll be really pleased."
Now Varua lives a happy life, being taken out as often as possible with Gavin, Leanne and their 5-year-old daughter Grace.
"I was brought up on boats, worked on boats and now…" Gavin shakes his head.
"…I'm crazy enough to own one."