Vessel Profile – Palomino
Local winemakers and cellar owners Warwick and Rachael Foley purchased Palomino in 2005. Palomino was built in Blackwood Bay, Queen Charlotte Sound in 1953 by the Swanson Boat Builders. It has a carvel Kauri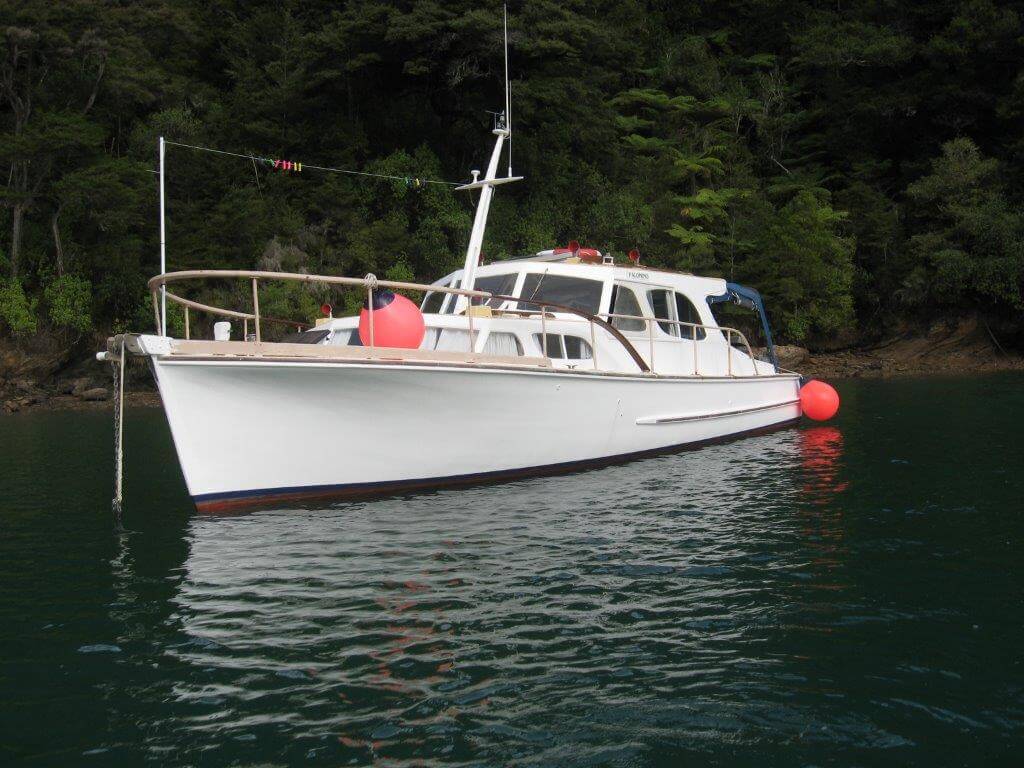 hull and is one of many Swanson boats to be built in the Marlborough Sounds during the 50's and 60's.  Since owning Palomino, Rachael and Warwick have enjoyed many wonderful times out in the Sounds, using it as their 'floating bach' to escape from the busy cellar door over the busy season!
The Foley family's nautical heritage began with Warwick's father, Bernard Foley being Senior Surveyor of ships for Marlborough. There will be many people who read this who will have some interesting stories to tell about Bernie!  Warwick was also involved in the Sea Scouts as a teenager and loved going on trips with his Dad to many areas in the Sounds for survey work in the school holidays.  Rachael has great memories of holidays to the Marlborough Sounds as a child with her Dad, Andrew, also having a keen interest in Sailing. Andrew now enjoys crewing on the Start Boat for the Waikawa Boating Club's Tuesday evening Twilight Racing.
Warwick is one of the Winemakers and Co-owners of Johanneshof Cellars at Koromiko, home of award winning wines and NZ's first Underground Rock Cellar.  As well as enjoying the fruits of their labour by having Johanneshof wines aboard, Warwick and Rachael have also made it a tradition of always having a bottle of 'Palomino Fino Sherry' on board too.
Their 3 1/2 year old daughter Marguerite also adores the boat and is always excited to go out for trips whether it be for a day or for several nights.  Her first trip on Palomino was when she was 1 month old, so she is growing up in the family tradition of having great sea-legs! Rachael and Warwick can't wait for her to catch her first fish, she has so much fun exploring the beautiful beaches in the sounds, looking under rocks for crabs and other interesting sea life.
Rachael is also an Executive Committee member of the Marlborough Marine Radio Association of which she is very proud to be associated with.
Johanneshof Cellars is open for tastings over the summer season, and is located 10 minutes drive from Picton and Waikawa marinas. Cellar tours are available by appointment. More information here