Vessel Profile – SY Janice of Wyoming
Over summer Picton hosted SY Janice of Wyoming, a vessel that caused quite a stir around town. She caught the eye of many along the waterfront as her mast stood out, making other respectable masts look little in comparison. During the couple of weeks she was casually berthed in Picton Marina, she was by far the largest vessel at just over 130 foot long.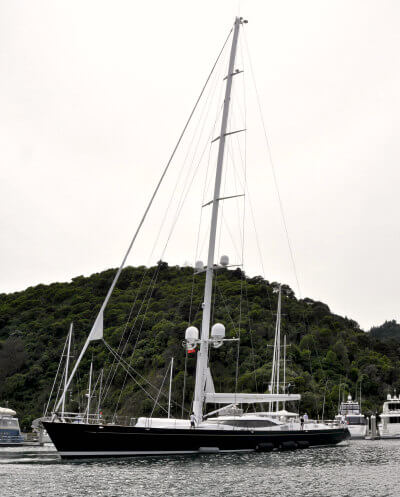 Officially Janice is 40m long with an 8.7m beam and 4m draft. She has an aluminium hull and was designed in Hampshire, UK by Ed Dubois and his team. Although designed overseas, she was custom built by Auckland business, Alloy Yachts International from 2003 to 2005.
In her own online blog, Janice is described as having "captive winches, a carbon fiber rig from Southern Spars plus a wardrobe of 3DL Aramid/carbon sails from North Sails' Auckland" which means she is sleek and easy to handle in a many different wind conditions.
She has a cruising speed of 12 knots and has toured the world, recently following the America's Cup from Valencia back home to Auckland stopping in at the Seychelles and Mauritius along the way.
Janice can house six guests and can have six crew on board too. She has been designed for luxury and practicality, with the main tender well doubling as a spa, steering stations in the cockpit which can turn into a relaxing area and transom doors that open to a swimming platform.
Although privately owned by an American Couple, skipper Chris Wilson is a kiwi and says the trip to Marlborough is a favourite for them particularly because of the scenery and the delectable seafood delights to be sampled. We hope to see them again soon!