Vessel Profile – Sapphire
Brenda and Roy Norgrove have arrived back in Havelock marina after a boating adventure of a lifetime; a journey from Auckland to Havelock followed by a trip around the South Island.
The Norgroves' boat, Sapphire, is a 14.2 metre gem built by local boatbuilder Jim Carey in 1995. She's got a Scania engine and she cruises at 9-10 knots. Roy and Brenda bought her a couple of years ago. She had been a cray-boat working out of Whitianga and she was in original and excellent condition. Roy modified her a bit; extending the coach roof and adding a cabin roof to the aft bunk room to give standing room. The Norgroves' bucket list included visiting Fiordland by sea. They left Auckland and headed down the East Coast of the North Island. Taking turns at the wheel, they made it to Wellington in one 56 hour marathon. They motored across Cook Strait ending up in Havelock, where we were pleased to welcome them to Havelock marina, where Sapphire now resides.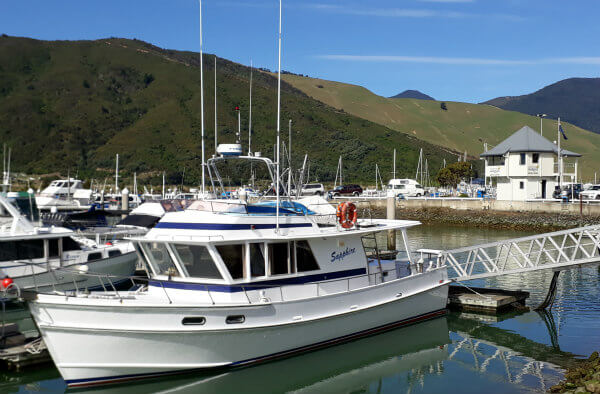 At the beginning of February they headed off on a 44 hour, non-stop journey to Milford Sound.
The seas around Farewell Spit and Kahurangi were a bit gnarly, giving them a taste of what soon became normal. They explored Fiordland for seven weeks, enjoying the scenery and wildlife, hiding from the weather, hunting for safe anchorages, being gobsmacked by the rain, catching a bit of cod and and rafting up with helpful and very friendly commercial fishermen who gave them gifts of crayfish.
Next, it was off to Bluff. It took them three attempts on consecutive days to get around Puysegur Point. At Bluff and Stewart Island they met another bunch of wonderful people and rafted up in more wild wind. Heading back up the South Island, it took 30 hours to get to Akaroa. After a bit of a rest there, the couple grabbed a weather window and headed for Havelock. With the weather front catching up, they snuck into Tory Channel for shelter and in Oyster Bay they experienced the worst conditions of the trip. Southerly gales were tearing down the valley into the bay and the anchor was dragging. It was time for quick getaway up to Picton for the night.
The Norgroves' enduring memories of their trip are the grandeur of the northern Fiords, the friendliness and generosity of the boaties that they met in the South Island and Stewart Island, and the magnificent performance of their Carey boat. Roy and Brenda now consider Havelock their second home, and while they have to head back to Auckland for a while, they will be back frequently. After all, Sapphire is staying in the Havelock marina and Roy's already dreaming of heading back to Fiordland.