Marlborough Marine Mammals
Sharing the Sounds with our local marine mammals is an incredible privilege. All seals, sea lions, dolphins and whales are protected under the Marine Mammals Protection Act 1978, making it an offence to harass, disturb, injure or kill marine mammals.
There are also the Marine Mammals Protection Regulations 1992, which list the conditions governing behaviour around marine mammals. Sadly, some people get too close to marine mammals, harassing them, which puts the animals in danger, and can end up costing people a fine up to $250,000, or even a prison term.
That's why the Department of Conservation has basic rules it recommends people adhere to when they come across marine mammals, as follows:
General Rules
Do not disturb, harass or make loud noises near marine mammals.
Contact should be ceased should marine mammals show any signs of becoming disturbed or alarmed.
Do not feed or throw any rubbish near marine mammals.
Avoid sudden or repeated changes in speed or direction of any vessel near a marine mammal.
There should be no more than three vessels within 300m of any marine mammal.
On Shore
Give seals and sea lions space. Where practicable stay at least 20m away.
Avoid coming between fur seals and the sea.
Keep dogs on a leash and well away.
Where practicable, do not drive vehicles closer than 50m of a marine mammal.
Never attempt to touch seals or sea lions, they can be aggressive and often carry diseases.
At Sea
Ensure that you travel no faster than idle or 'no wake' speed within 300m of any marine mammal.
Approach whales and dolphins from behind and to the side.
Do not circle them, obstruct their path, or cut through any group.
Keep at least 50m from whales (or 200m from any large whale mother and calf or calves).
Swimming with whales is not permitted.
You may swim with seals and dolphins but not with dolphin pods with very young calves.
Avoid approaching closer than 20m to seals and sea lions hauled out on shore.
Idle slowly away. Speed may be gradually increased to out-distance dolphins and should not exceed 10 knots within 300m of any dolphin.
If you notice a marine mammal being harassed, severly injured, or entangled, contact DOC immediately on 0800 DOC HOT (0800 362 468).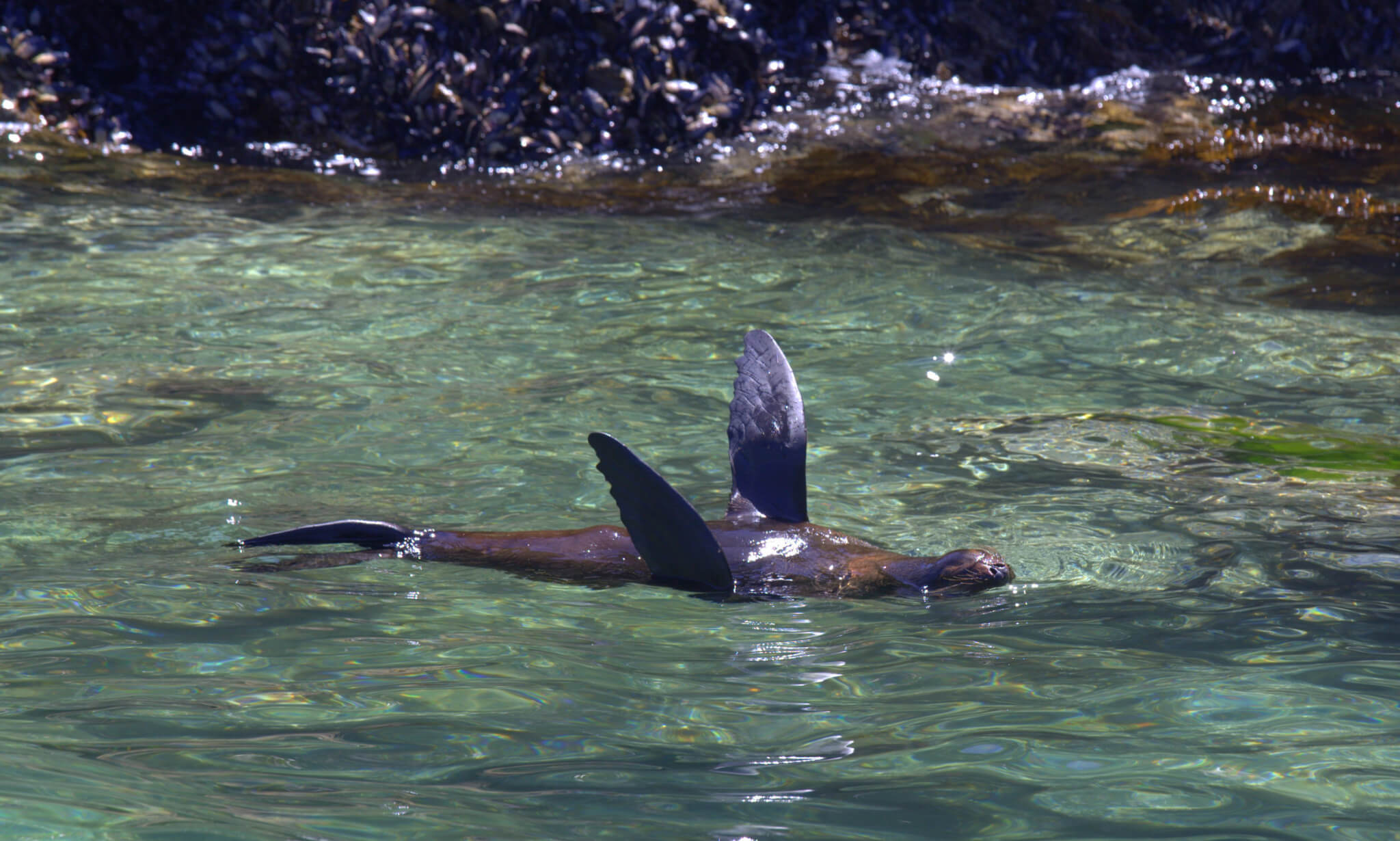 Snaps of Summer Entry. "Swimming Lessons" by Tamzin Henderson.