Identifying and protecting against Mediterranean Fanworm
Clean your hull before you arrive in the Marlborough Sounds
Marlborough Sounds Marinas and the MDC biosecurity team are working together to protect the Sounds from the spread of Mediterranean Fanworm.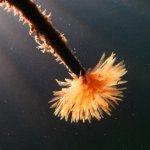 Mediterranean fanworm is a biosecurity pest that could create incursions into Marlborough, arriving on vessels travelling down from the upper North Island. Mediterranean fanworm is well established in many areas up north, and very easily attaches onto vessels, even if they have had a fleeting visit to these regions. It is well established in many parts of the Waitemata Harbour, Waiheke Island and inner Hauraki Gulf, including in marinas as well as parts of Whangarei Harbour.
Why is it a problem?
Mediterranean fan worm can form dense colonies of up to 1000 individuals/m2 that exclude the settlement of other organisms. It also has a high filtering ability influencing the composition of planktonic communities and abundance of some species. The fanworms' larvae settle on boat hulls where they grow into adult worms and get transported to new locations when the boat sets sail. The presence of the Mediterranean fanworm in mussels or oysters may affect their growth due to competition for food.
It forms dense colonies and has the the following identifying features:
A tube, which is generally fixed to a hard surface but can grow in sediment, usually looks muddy and could be up to 60cm long.
Long feathery tentacles that look like a single spiral fan and extend out of the top of the tube.
A white fan banded with pale fawn, orange or brown.
If you have spotted Mediterranean Fanworm in Marlborough, you can contact the MDC biosecurity team by emailing: biosecurity@marlborough.govt.nz
MPI have put together an informative guide on marine pests in New Zealand, which is available for download here.
What you can do to help stop the spread
To help us stop the spread to our beautiful bays and marinas we are asking you to clean your hull (right down to the bottom of and under the keel, or dead wood, plus any nooks and crannies) before you arrive into our marinas and the Sounds from any affected areas. You can do this by either, getting your boat lifted and giving the hull a wash off to remove all biofouling or, arranging for a complete hull clean and antifoul if you have not done this for a while.

Marlborough Sounds Marinas Rules
Here at the marinas we work closely with our council's biosecurity team. If you are arriving from affected areas, owners/skippers of visiting boats will need to show evidence of having either:
antifouled your hull within the last six months; or
Lifted and washed your boat in the last month.
It is also a part of our berthage licence general terms and conditions that berth holders must keep their hulls clean of designated marine pests and bio-fouling, and undertake regular cleaning and antifouling. If you are travelling to any affected areas and returning to your berth at Marlborough Sounds Marinas, it is a great idea to book in for a haul out and washdown when you return.
Marlborough District Council's Rural Pest Management Plan states that:

Rule 7.21.2.1

The owner or person in charge of a craft entering Marlborough must ensure that the fouling on the hull and niche areas of the craft does not exceed 'light fouling'

'Light fouling' is defined as: small patches (up to 100 millimetres in diameter) of visible fouling, totalling less than 5% of the hull and niche areas. A slime layer and/or goose barnacles are allowable fouling.

Rule 7.21.2.2

Any person who suspects to have observed Mediterranean fanworm (Sabella spallanzanii) in Marlborough shall notify Council within 24 hours of making the observation, detailing the location and situation of suspected pest.
If we work together we can prevent this pest becoming a problem in the waters we all love.
Clean below? Good to go!