The Lodge at Te Rawa – Pelorus Sound

December 2020 marks Rob and Anne Brabazon's 4th Christmas and Hogmanay at Te Rawa.
Each one has been exciting in different ways, but  with the closed international border this year, 2020 is the first time they have had only kiwis attending. Anne and Rob say they are really looking forward to hosting two incredibly special events.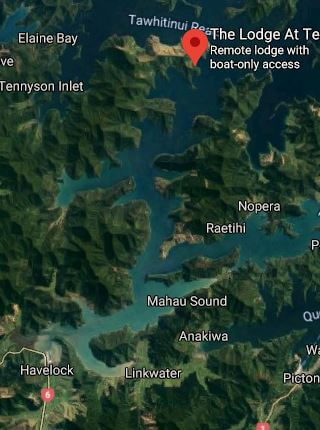 Christmas Day they offer a traditional Kiwi Christmas dinner with some added vegan options and lots of bubbles for $120.00 pp.  New Year's Eve will be the traditional Scottish Hogmanay (haggis available but not compulsory) with yet more bubbles and some fine Scottish malt whisky. This year, included in the New Year's Eve special, is a boaties' hangover cure of Bacon Butties on New Year's Day, to ensure that a few happy (if a bit fuzzy) guests pop back for brekkie on January 1st 2021.
As always there's a free swing mooring and the option of a free hot shower the next day too.
The last 3+ years have brought many different and interesting guests to Te Rawa and some great events. Anne and Rob have hosted three different extended families for three different 70th birthday weekends. They have also had 50th wedding anniversary weekends, wedding anniversary dinners, heaps of birthday dinners, proposal dinners and lunches for those arriving by mail boat.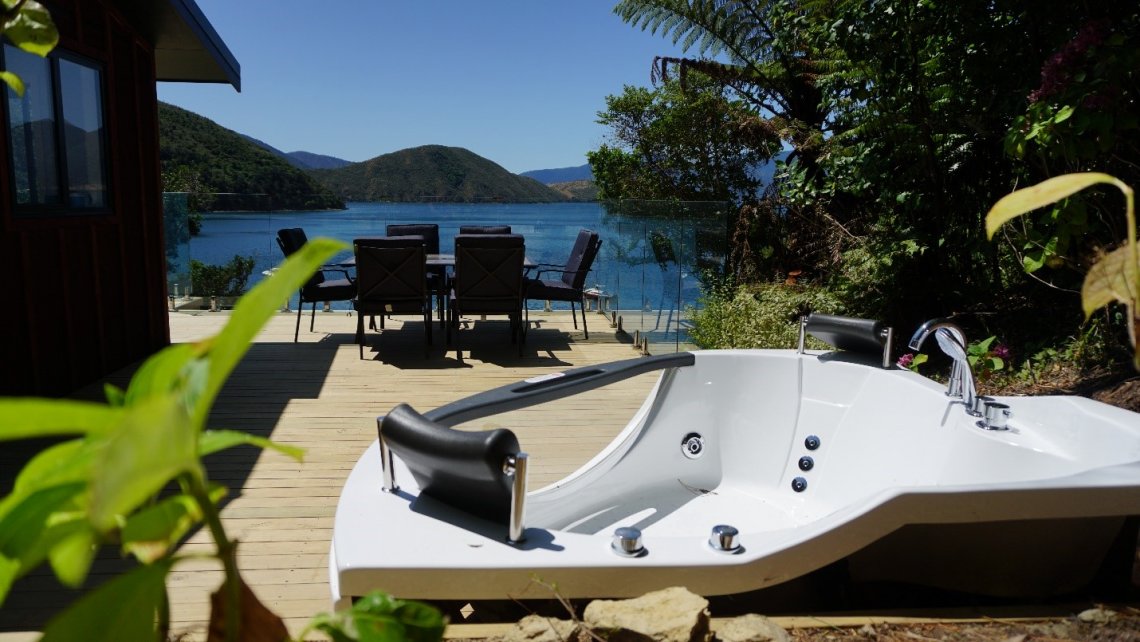 There is no doubting the romance of the Te Rawa location. As well as offering swing moorings for visitors, should you want the comforts of home, to compliment the existing suites and cabins at Te Rawa, Rob and Anne have recently built a brand-new self-contained luxury accommodation offering, the new Kereru Cottage.
With two separate bedrooms, and a sunny open plan kitchen and living area, it is perfect for a couple, friends travelling together, or families. The totally private elevated site is 25 metres from the sea and cannot be seen from any other part of the property. It enjoys an amazing outlook, with full glass frontage and a glass balustrade on the deck, the view across the Te Hoiere/ Pelorus Sound from the living area is completely uninterrupted.
Each bedroom is equipped with twin beds, which can be joined to make a luxurious king size bed. Extra guests can be accommodated on a sofa bed in the living room by arrangement.  A wrap-around deck allows guests to enjoy the sounds of the birds and the sea, and the property features a large outdoor bath in which to enjoy a soak after hiking through the nearby bush tracks, or as a special place to enjoy a glass of wine or read a few chapters of your book.
Cooking facilities and a refrigerator allow self-catering if desired, or a 2-minute walk brings you to the Lodge at Te Rawa's coffee shop, bar and restaurant if you prefer to relax and let them do the cooking.
As well as being a romantic retreat or convivial meeting place for sailors and fishing parties, it's wonderful for children. Many guests have great memories of coming to Te Rawa as kids and experiencing the sheer joy of taking running leaps off the end of the wharf or exploring the beach for jelly fish and crabs, or filling pockets with multi-colored sea glass and shells to take home.
Te Rawa is definitely a "Top Spot" for Marlborough Boaties, and one that we are happy to recommend. The hospitality of Rob and Anne is legendary and we always hear good things from our boaties when they arrive back in to our marinas.
If you would like to book Christmas lunch or NYE dinner, visit for the day or stay the weekend in an apartment, or on a mooring in your own boat, just call Rob or Anne at Te Rawa Lodge on 03 5798285, or check out more information on their website here: https://www.terawa.co.nz/