Lochmara Lodge – Summer 2021
Lochmara Lodge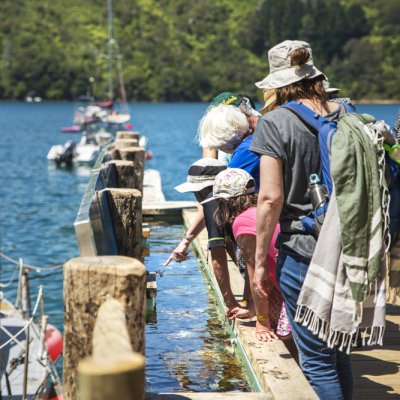 2021-2022 Season – Lochmara is open and the new team can't wait to see you all! The Lochmara Lodge team opened its doors on 22 September for the 2021-2022 season. Under new ownership, they are ready to continue the Lochmara legacy, build on it, and welcome all regular guests as well as new guests. So make that booking and head out to see why Lochmara Lodge is 'once discovered….and never forgotten'.
Some of the land around Lochmara was damaged by the July 2021 storm, and the team have had to cordon those sections off. However, you can still walk the property and access the Queen Charlotte Track when it reopens. The accommodation, restaurant and animal buildings are unaffected and it's business as usual at Lochmara thankfully.
Lochmara Cafe
Lochmara boasts a fully licensed café and restaurant which overlooks the water. It's an amazing spot for families and couples to enjoy the range of offerings from the kitchen or bar. Open 7 days for breakfast (8am -10.30am), lunch (11.30am – 3pm. NO bookings required), dinner (from 6pm) and all-day coffee, home baking and snacks and a range of local wines, beers and juices. The menu and cuisine is based on seasonal Marlborough flavours, reflecting the regional specialties from sea and land.
Underwater Observatory
Check out the underwater observatory to learn all about the marine biodiversity and habitats of the Marlborough Sounds, feed the fascinating stingrays in their natural environment, and be delighted by NZ marine life in the seaside touch tank.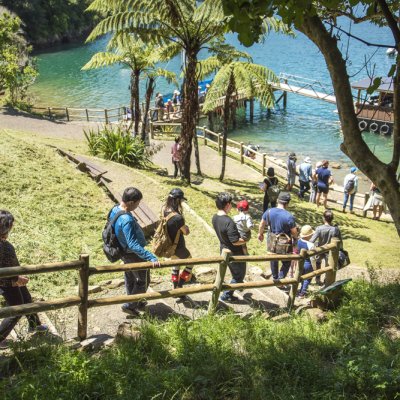 See the stunning MarlboroughSounds from a whole new perspective!
The vessel is permanently moored at Lochmara and there is plenty of standing room and windows on both sides. A few of the species you may see are carpet sharks, stingrays, crayfish, blue cod, tarakihi, conga eels, and diving shags.
Lochmara runs fully guided tours of approx 40 minutes so you will be well informed and entertained by their passionate fully qualified guides. The tours include stingray feeding and some great learning experiences and fun for the kids with the educational "seaside touch tank".
Guided tours are at 10.10am, 11.00am, 12.50pm and 2.45pm. Bookings essential.
Wildlife Recovery Programmes
Lochmara Lodge have been operating an extensive Mainland Island predator control program for the past 12 years in addition to widespread habitat planting. The birdlife on the property speaks for itself, the dawn chorus is amazing!
Four years ago they started developing a facility for Wildlife Recovery programs and forming a relationship with the Department of Conservation. Over this time they have set up programs working with injured wildlife, Kakariki, Weka, and the Marlborough Green Gecko as well as providing nesting boxes for the Blue Penguin and the Tree Weta, and visitors to the lodge can enjoy and learn about these native species in their natural environment.
Information for Boaties
Free swing moorings are available subject to availability during the day – call on VHF Channel 63
As Lochmara Lodge is a private hospitality venue with many visitors, the law requires all visitors to provide evidence of their COVID-19 vaccination status. Please have this ready when you arrive to avoid any disappointment.
Overnight mooring fee applies, if not dining at dinner
Free tender transfers between jetty and moorings
GPS 41.13.709S by 173.59.67E –Jetty No. Q5490
Freephone0800 562 462      lochmara.co.nz