Discover – Endeavour Inlet
Endeavour Inlet, located  near Edgecombe Point Light at 41°09'26, 174°12'04 in the northern end of Queen Charlotte Sound, was named by Captain James Cook after his ship Endeavour when it sailed into the bay in 1770. The surrounding area includes other namesakes of Cook's early visits, with the settlement of Furneaux and the Inlet's highest point Mt Stokes named after Cook's two navigators.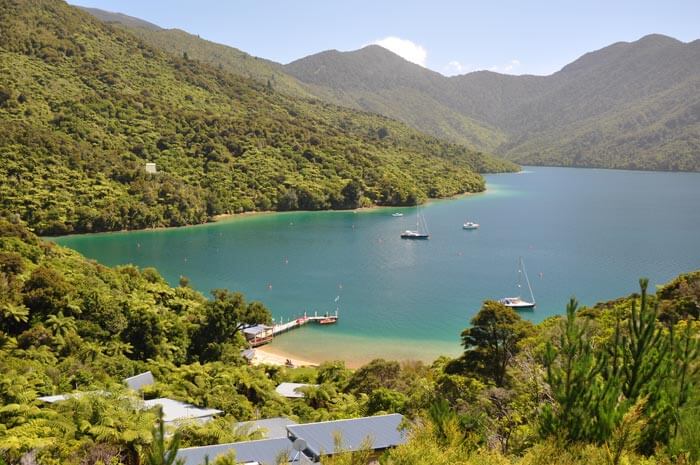 At the time of Cook's exploration, Endeavour Inlet and the surrounding bays were populated by Ngāti Apa, Ngāti Kuia and Rangitāne tribes, and later during European settlement, much of the bush in Endeavour Inlet was cleared and a small town and farms were established.
In 1873, ore containing 60% antimony was discovered in a landslide near the saddle between Endeavour Inlet and Port Gore. It was found during the prospecting of the Queen Charlotte Sound Goldfield, proclaimed in October 1872 and within a line of mineralisation running from Titirangi Bay through Endeavour Inlet to Resolution Bay.
John Ashworth, a local settler along with a community syndicate formed the Marlborough Antimony Company Ltd  in 1874, and the first smelter started in 1875. A small amount of gold was also obtained from the site during the early mining days.
While the original mining company faltered with fluctuating prices of antimony, between the years of 1874 and 1950 as many as nine antimony companies were formed and disbanded, and hundreds of tons of ore and smelted mineral were exported.
At one stage the mine was one of the largest industries in Marlborough and employed and housed more than 100 men, some of whom were recruited specifically from England for their mining expertise.
At the height of its success, the miners' village at Endeavour Inlet comprised of a manager's residence, a primary school for 30 children and a post office.The mining operation included two centrifugal pulverisers, 24 smelting furnaces and a tramline sending the antimony 1500 feet down the valley to a large jetty on the waterfront. Large steamers would berth there, and were loaded with antimony bound for England which was used as hardener for lead products, and as an additive to cosmetics.
Today the serene inlet is a popular holiday spot, accommodating dozens of holiday homes, hosting hundreds of walkers along the 15kms of Queen Charlotte Track, and housing both Punga Cove and Furneaux Lodge – favourite Sounds R&R spots forvisiting boaties and locals alike.
Endeavour Inlet's current picturesque landscape gives little suggestion of its rich and eventful past, and while enjoying a cold beverage on the lawn of Furneaux Lodge you would be forgiven for never having imagined the hive of toil and activity which once brought so many ships and people in to Marlborough.
If you plan to see Endeavour Inlet soon, make sure you stop in to  www.furneaux.co.nz, or www.pungacove.co.nz to experience some of the best Sounds hospitality on offer!
(Images courtesy of Alexander Turnbull Library, and The National Library of New Zealand Te Puna Matauranga o Aotearoa.)