Spring Twilight Series – Series report
Spring Twilight Series – Series report
With four of ten races completed in the Marlborough Sounds Marinas Spring Twilight Series the competition is hotting up nicely. With skippers able to drop the two worst results of the series some have played a tactical card early, missing a rather lively night weather-wise for the third round of the series. Others adopted the attitude that racing in a smaller fleet might produce better results and took to the water despite the damp and blustery conditions.
Division 3 is shaping up to be a very tight competition with a huge amount of accumulated knowledge amongst the skippers and crew engaged in this division. Acamar, Free Rein and Playwright lead the division but with conditions normally getting lighter toward Christmas there is scope for the well-performed light airs boats to make a strong run for the title in the last few weeks. Sailed under Mark Foy rules, each boat's handicap is applied on the start line with boats starting at time intervals determined by the handicapper. This leads to some exciting finishes as a number of boats descend on the finish line at once.
Division 2 was being dominated by Raconteur, skipper Richard Coon helming his boat well in the varied conditions experienced so far. However closest rival Settimio have stepped up and taken the latest race in the series. This, combined with Raconteur sitting out the race has given Settimio the lead on the table with Freaky moving into third behind Raconteur. With Bump n Grind and Bavaria rounding out the top five the competition looks set to be a cracker. Sailed under the club handicap system, the division fleet starts together, placing emphasis on boat handling and start line tactics, the handicaps being applied after boats finish to level the playing field. While line honours is a sought after position, far more important is the handicap result as it is this that determines the points on the series table.
Division 1 features a mix of boats from large cruisers to out and out racers. Current series leader Global skippered by Rear Commodore sailing David Grigg  is two points ahead Khamsin skippered by Vice Commodore Dave Kelway with Chris Williams aboard Flying Fox (having taken the win in the last two races) to move into third a point back from Khamsin. Flying Fox is a consistent performer while Bluebird and Oldsmobile are both boats that will prove a real threat in light airs. Sailed under the same club handicap system as Division 2, there is still plenty of action to come in the top division with perennial line honours winner Satellite Spy rejoining the fray this week. While perhaps not a contender for overall honours they can still dent the hopes of others through some top performances.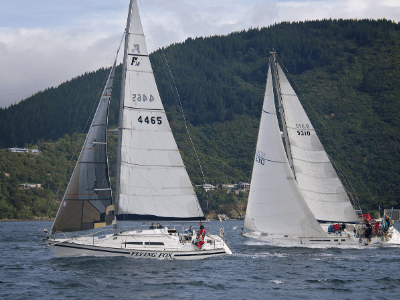 Flying Fox leads Khamsin during the New Year regatta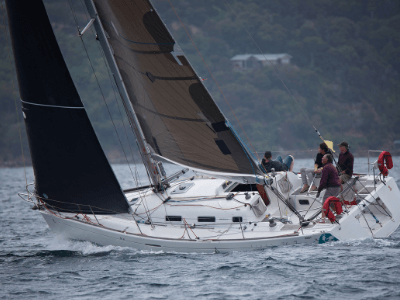 Current Division 1 leader Global powered up during the New Year regatta
Photos Karmyn Ingram