Marlborough Sounds Marinas Spring Twilight Series – Race 4
Moderate sou'east conditions with light rain saw a reduced fleet take part in the most changeable conditions seen this series in race 4 of the Marlborough Sounds Marinas Spring Twilight series at the Waikawa Boating Club. Thoughts of spinnaker and gennaker handling were quickly moved to the 'maybe not' column as powerful gusts alternated with flat calm patches to create every skippers nightmare.
Division 3 was treated to a master class in course management as Ian Michel's Reacher moved through the fleet to take the win ahead of Peter Broad's Davidison 35 Reotahi with Our Girl, Alex Soper's Hanse 345 coming home in third after sampling everything the weather gods had to offer in the course of the evening.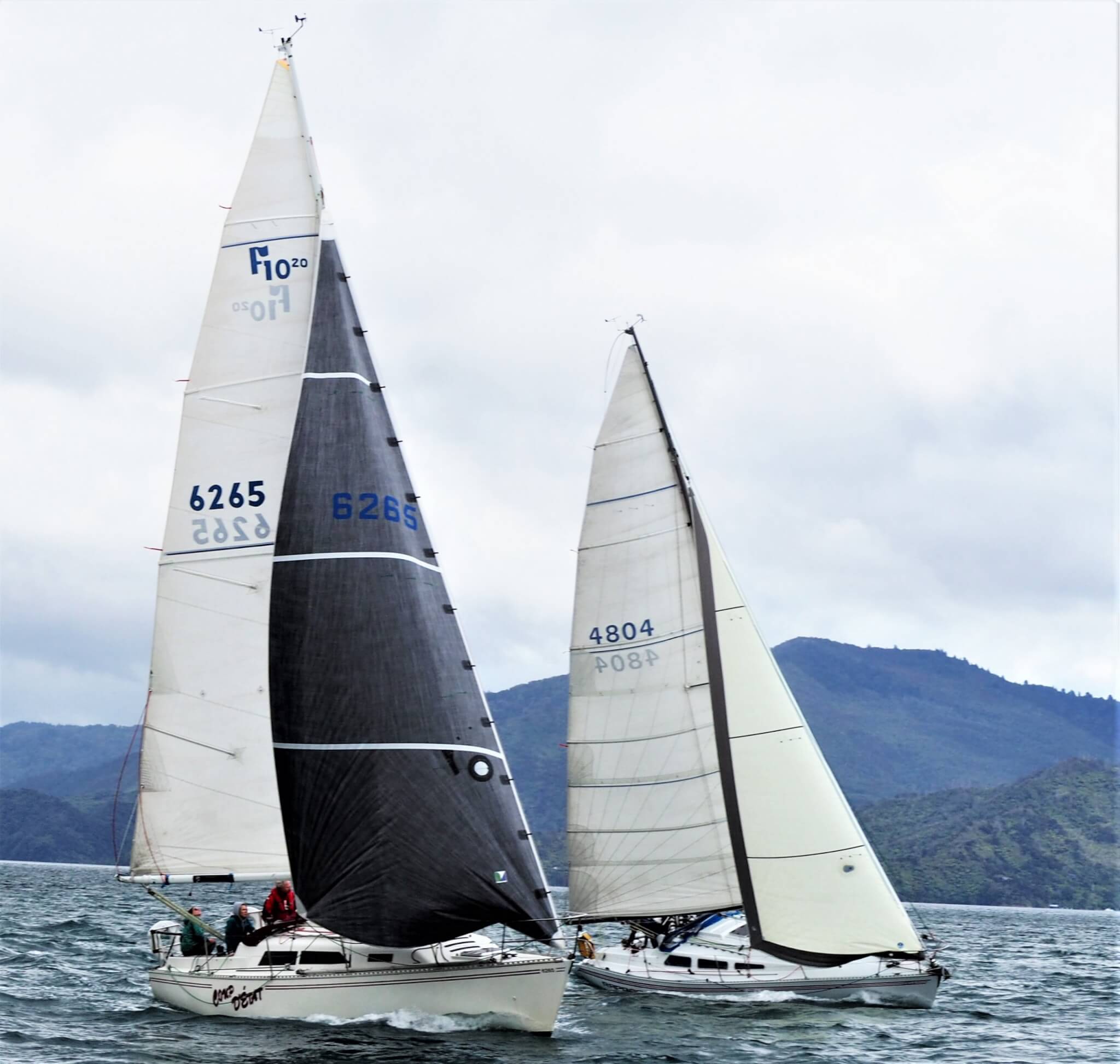 Division 2 was taken out by current series leader Clive Harragan, his Raven 26 Settimio thirty one seconds clear of Bruce Lock's Lotus 10.6 Sea Fox with Jason Munro taking third with his Hanse 345 Phantasea. Sea Fox took line honours ahead of Rob and Mandy Carpenter's Farr 727 Freaky with Phantasea third on the line. Bavaria, Ralph Rosthorn's Lidgard 32 was the only boat in the division to fly a spinnaker, a bold move which ultimately didn't benefit them as the changeable conditions had the final say.
Outstanding wind shift picking saw Jan Eveleens take his recently acquired Farr 1104 Rapport first around the top mark with Bob Crum hot on his heels with Bluebird, the J120 looking naked without her big blue gennaker flying on the downwind. Clive Ballett was right in the mix with his Farr 102 Coup d'Etat sitting in the top three for most of the first lap. Along with Chris Webb's Davidson 45 Midnight, these boats made a clean break from the rest of the fleet and proceeded to fight it out in the dying breeze which forced the race committee to shorten the course. Coup d'Etat took a well deserved win by twenty seconds from Bluebird with Rapport taking third. Crum's impeccable helming saw Bluebird take line honours ahead of Midnight with Rapport storming home on the final beat to pip Coup d'Etat by thirteen seconds for third on the line.
After four races Division 3 has a new leader, Our Girl and Finnistere pushing previous leader Supertramp down to third on the table while the strong results from Reacher and Reotahi moved them to fourth and fifth respectively. Settimio consolidated her position at the top of Division 2 with Bavaria and Sea Fox the closest contenders. Midnight maintained her lead in Division 1 but the race four results move Bluebird and Coup d'Etat up into second and third on the table with Richard Coon's Hanse 400E Raconteur chasing hard in fourth. No doubt skippers and crew alike will be looking for more consistent wind and dryer overhead conditions as they reach the halfway point of the series next Tuesday.