Marlborough Sounds Marinas Spring Twilight Series – Race 3
Marlborough Sounds Marinas Spring Twilight Series – Race 3
It was a night for the bold and the brave on the water for race 3 of the Marlborough Sounds Marinas Spring Twilight series. A smaller than usual fleet of hardy souls took to the water in strong gusty South Easterly conditions peppered with regular rain squalls. Conditions didn't dampen the enthusiasm of those taking to the water with close competition across all divisions.
Division 3 was taken out by Chris Gorman aboard Free Rein, less than 30 second clear of Ian Michel's Playwright in second with Greg Cornish's Easterly 9.1 Acamar in third.
Division 2 was tightly contested, seven boats braving the conditions which saw on course gusts of up to 40 knots, testing the resolve and skills of those on board. Richard Coon continued his fine run of form, bringing his Hanse 400 Raconteur home for line and handicap honours ahead of Clive Harrigan's Raven 26 Settimio in second, Nicky Jenkins and Paul Skelton bringing their Hanse 385 On Appro home for third as well as taking second on line. Matt Michel took third on the line, the Ross 830 Bump n Grind performing well in the tough conditions.
Division 1 belonged to Chris Williams, his Farr 38 Flying Fox taking the line and handicap double ahead of Dave Kelway's Beneteau Khamsinsecond equal with the David Grigg skippered Beneteau Global. Global also took third on line with Bob and Jenny Crum's J120 Bluebird second on line.
With three races of the series completed some strong form is starting to show with Free Rein leading Division 3 ahead of Acamar and Playwright. Division 2 sees Raconteur sitting on top of the table ahead of Settimio with On Appro third. In Division 1 Khamsin and Global are tied for the lead with Flying Fox currently in third.
With one further race in the series prior to the WineWorks Wine race, skippers will be looking to get their crew work polished prior to the big race across Cook Strait to a new finish line on the Seaview marina side of Wellington Harbour.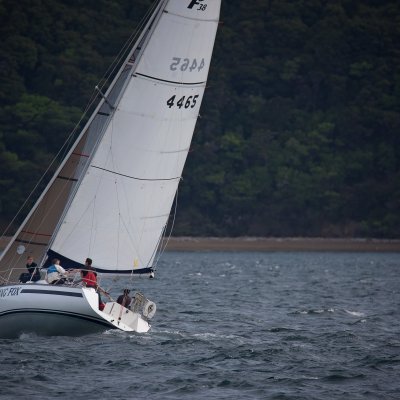 Flying Fox in warmer conditions during the 2019 New Year regatta.