Marlborough Sounds Marinas Spring Twilight Series – Race 3
Moderate sou'east conditions were served up for the fleet in race 3 of the Marlborough Sounds Marinas Spring Twilight series at the Waikawa Boating Club. Cooler conditions and reasonably consistent breeze gave opportunities to all crews to get their boats settled down and 'in the groove'. Spinnaker and gennaker handling skills were put to the test with some great displays of skill from boats in both spinnaker divisions.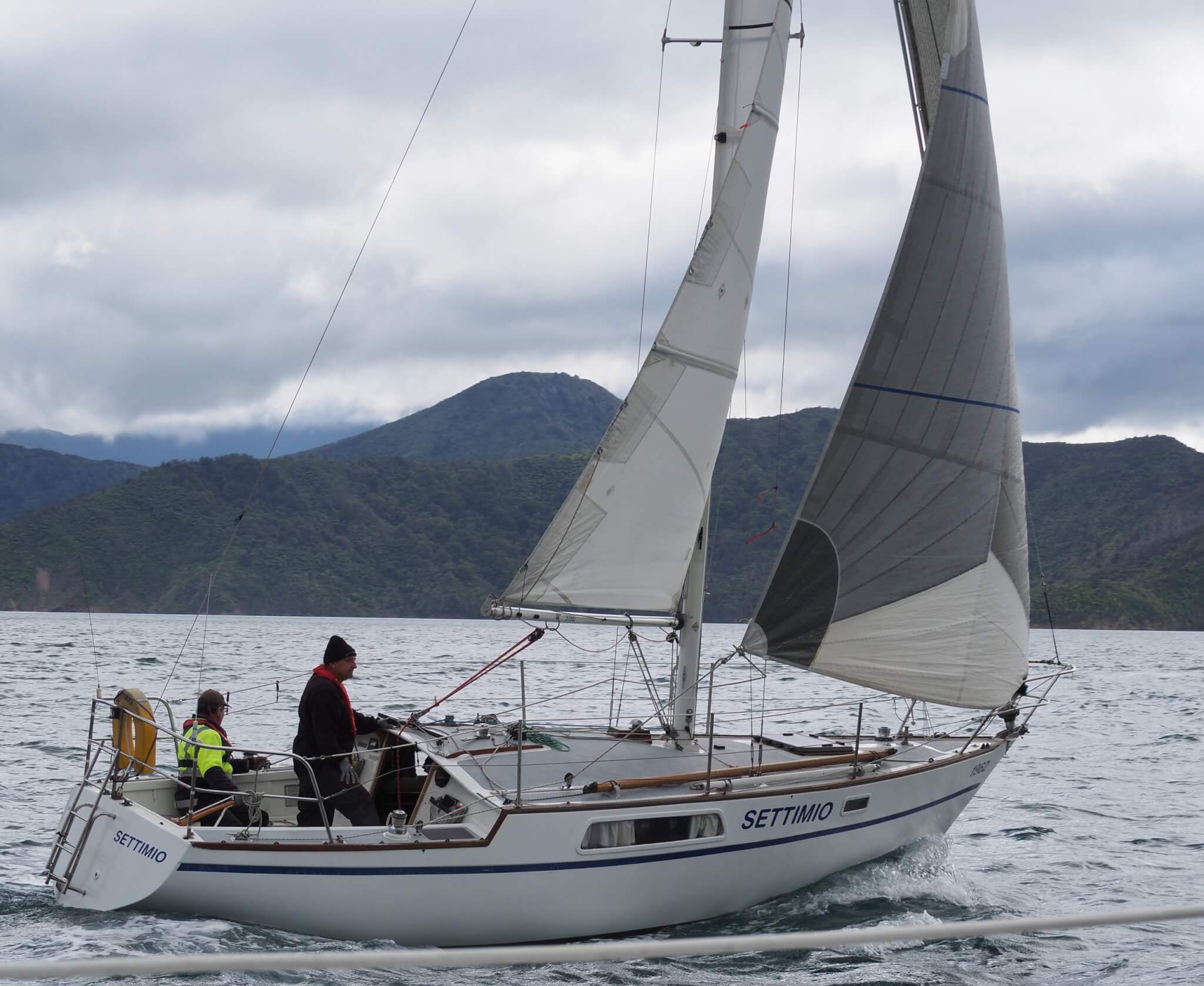 The Division 3 fleet continued their tight racing with the evergreen John Oswald bringing his 8m Lidgard Supertramp home for the win ahead of Family Affair, the Dave Roberts helmed Lotus 9.2 just 5 seconds back at the line and clear of Greg Frisken and Kate Trayling who brought Finnistere home in third place, the 10.4m Mummery enjoying a good breeze.
Division 2 delivered some great racing, some excellent seamanship from Bruce Lock bringing his Lotus 10.6 Sea Fox home for the win ahead of Clive Harragan's Raven 26 Settimio with Laurie McIntyre's Young 7.8 D'Edge showing that the smaller boats were at home in the conditions finishing third, twelve seconds back from Settimio. Ron Ives took his Lidgard 35 MacIntosh to line honours ahead of Sea Fox with D'Edge and Terry Allen's Hanse11.6 Imagine It tied for third.
With race 2 winner Khamsin missing from the fleet the racing was fast and furious, Bob Crum applying plenty of pressure to Matt Kerr's Satellite Spy aboard the J120 Bluebird, the fascinating duel of gennaker versus spinnaker ensuring a great spectacle for all. Not too far back in the fleet Chris Webb's Davidson 45 Midnight was enjoying a battle with David Croad's Beneteau First 40.7 Northern Rebel II. In the final analysis Midnight took the win ahead of David Grigg's Beneteau 36.7 Global with Bluebird 3rd. Satellite Spy returned to their normal place, the Ross 40 taking line honours ahead of Bluebird and Midnight.
With three races of the ten race series completed Supertramp has opened up a lead in division 3 from Ricochet and Our Girl with Finnistere and Family Affair still well in touch. Settimio leads division  with Bavaria, D'Edge, MacIntosh, Sea Fos, Imagine It and Sequin all contenders for the minor placings. In division 1 Midnight has opened up a gap on Northern Rebel II, Prime Suspect II, Global and Bluebird but as past series have shown, there is still plenty of opportunity for boats to lift their performance and move up the table.