Marlborough Sounds Marinas Spring Twilight Series 2018/19 – Race #7
Light winds and clear overhead conditions greeted the fleet for Marlborough Sounds Marinas Spring Twilight Series race 7. The breeze made a late shift, keeping skippers and crew on their toes as the series hots up with three races left.
In Division 3, David Roberts on Family Affair sailed a consistent race to finish first on handicap from Mark and Sue Altoft's Davidson 35 Entertainer with the Neville Fox/Grant Midgley Lotus 10.6 Third Wave third on line and handicap Trevor and Linda Thompson's Lotus 10.6 Key Largo took line honours ahead of Bryce Ecklein's Young 88 Crossfire. Entertainer still heads the table from Key Largo and Third Wave however the table tightens up considerably with the dropping of each boats two worst results, only 9 points separating the first four boats.
Division 2 saw a fine performance from Matt Michel's Bump n' Grind, the Ross 830 taking line and handicap honours thirty seconds ahead of Andrew Wilson's Farr 1104 Rapport which also took the line/handicap double. Laurie McIntyre's Young 780 D'Edge taking third on handicap. Third on line went to Ron and Liz Ives' Lidgard 35 MacIntosh. Series leader Olmari, Kerry Kirk's Lotus 9.2 looks comfortable at the head of the table but once each boats worst two races are discarded the table tightens up considerably with Satu, Bump n' Grind, Rapport, Imagine It and MacIntosh all within reach of top three positions.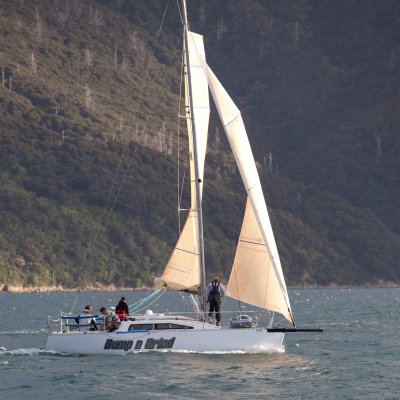 The improvement in Division 1 continues for Clive Ballett's Farr 1020 Coup D'Etat taking the win ahead of Mr Consistent, Aaron Blackmore's Oldsmobile taking second (and third on line) with Matt Kerr's Satellite Spy maintaining a perfect record in winning line honours and taking third on handicap. Chris Webb produced his best result of the series to date, his Davidson 45 Midnight placing second on line and fourth on handicap. Oldsmobile currently leads the points table but with two discards factored in the table tightens up considerably, Oldsmobile one point clear of Bluebird with Flying Fox a point further back and the rapidly improving Coup D'Etat making a late run at the podium. One thing for sure, there will be no shortage of motivation for a number of crews with three races left in the series.