Marlborough Sounds Marinas Spring Twilight Series 2018/19 – Race #5
Race 5 of the Marlborough Sounds Marinas Spring Twilight Series featured steady moderate winds, moving the focus more to the crew work end of the spectrum and away from the reliance on judgement calls which had been the hallmark of earlier races in the series. Spectator numbers were well up on normal Tuesday figures with nearly 5,000 aboard Ovation of the Seas being treated to a ringside seat view of the racing as the liner made its way out through the race fleet.
Division 3 produced some great racing with Trevor and Linda Thompson's Lotus 10.6 Key Largo taking line honours ahead of Reotahi, Peter Broad's Davidson 35 just 13 seconds ahead of Third Wave, the Neville Fox/Grant Midgley Lotus 10.6. On corrected time Phil and Wendy Vining's Oyster Heritage 37 Lady Grey produced a great result, taking the win ahead of Alex Soper's Hanse 345 Our Girl with the ever consistent Key Largo third. With 5 of the 10 races gone, Mark and Sue Altoft's Davidson 35 Entertainer shares the lead with Key Largo, six points clear of Pip Maslin on Ricochet.
Division 2 saw Clive Harragan's Raven 26 Settimio take the win from Olmari, Kerry Kirk's Lotus 9.2 with Jes Vilbsbaek's Chico 30 Welcome Home rounding out the podium. Line honours winner Rapport, Andrew Wilson's Farr 1104 finished ahead of Rear Commodore Saling Paul Skelton, the Hanse 385 On Appro he shares with partner Nicky Jenkins producing a fine finish, 22 seconds ahead of the well-performed MacIntosh, Ron and Liz Ives' Lidgard 35. A run of consistent performances sees Olmari atop the series table with Matt Michel's Bump n' Grind second and Rapport a close third.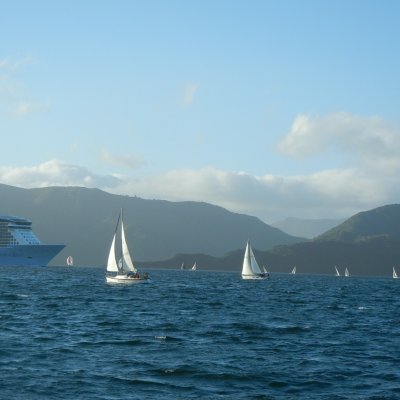 After being edged out of line honours in the WineWorks Marlborough Wine race Satellite Spy had a point to prove, the Matt Kerr skippered Ross 40 edging out Aaron Blackmore's Young Rocket Oldsmobile by a tight 12 second margin with 15 seconds back to Bob and Jennie Crum's J120 Bluebird in third. The performance from Oldsmobile was enough to give them the win on corrected time from Sam Edwards on MRX with Global, the Dabvid and Joanna Grigg owned Beneteau 36.7 3 seconds back from MRX in third. The result sees Oldsmobile move to the top of the Division 1 table, 1 point clear of previous leader Flying Fox, Chris and Sara Williams' Farr 38 now ten points clear of Bluebird in third place on the table.