Marlborough Sounds Marinas Spring Twilight Series 2018/19 – Race #4
Race 4 of the Marlborough Sounds Marinas Spring Twilight Series got underway in strong, gusty conditions. Good boat numbers still took to the start line with the strong winds testing the ability of crew to extract the best from their boats on the night. From a gusty start, the winds gradually died away, leaving the fleet seeking any whisper of breeze to make the finish line. The tough start to the evening resulted in a number of boats failing to finish the race, either through gear failure or finding themselves in very light airs toward the finish.
In Division 3 Pip Maslin's Ricochet finished fourth on line and handicap but that was enough to move them to the top of the series table after four races.Third Wave, the Neville Fox/Grant Midgley Lotus 10.6 sailed their best race of the series so far, taking line and handicap honours to move to third on the series table. Bruce and Sandy Lock's Lotus 10.6 Sea Fox also enjoyed the conditions, finishing third on line and second on handicap. Completing a hat trick for the design, Trevor and Linda Thompson's Lotus 10.6 Key Largo finished second on line and third on handicap, 2 seconds behind Sea Fox. The result maintained Key Largo's hold on third for the series while previous series leader Entertainer slipped to second on the series table.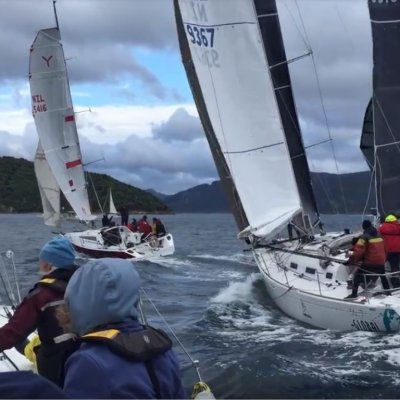 After a slow start to the series, Olmari, Kerry Kirk's Lotus 9.2 has produced a string of consistent performances, taking the win on handicap from line honours winner Matt Michel on Bump n' Grind with MacIntosh, the Lidgard 35 of Ron and Liz Ives producing another podium finish, second on line and third on handicap. The conditions obviously suited Adrienne and Bill Crossen in Sequin, finishing fourth on line and handicap after a string of below par performances in the lighter conditions which prevailed in the first three races of the series.
In Division 1, Bob and Jennie Crum's Bluebird showed a clean pair of heels to the rest of the fleet, taking line honours by over four minutes from Flying Fox with David and Joanna Grigg's Global third on the lien. The application of the handicaps saw Global move to first on adjusted time with Flying Fox second and Bluebird third, the three boats separated by less than 30 seconds on corrected time. These results consolidate the position of Flying Fox at the top of the table with Oldsmobile and High Society fighting it out for the minor placings.
With a number of the fleet geared up for the WineWorks Marlborough Wine Race on Friday, the challenge will be for crews to get back into short course race mode after racing across the strait.
Duncan McKenzie – Waikawa Boating Club Events Coordinator.