Vessel Profile – Seawatch (MAC)
Marine and Aquaculture Contracting (MAC)
Marine and Aquaculture Contracting Ltd (increasingly known as MAC) is new to the Ferry Terminal jetties at Picton Marina- a small, locally owned and operated family company based here in Picton and the Sounds.
MAC began 3 years ago after establishing there was a need for temporary, part time labour for the marine and aquaculture industries. Their experience and skills proved popular with a diverse range of companies and they found themselves assisting many Marlborough and NZ businesses. Their roles included driving tourism vessels, working with a local mooring services company, vessel deliveries and providing dive support and general labour to the aquaculture industries.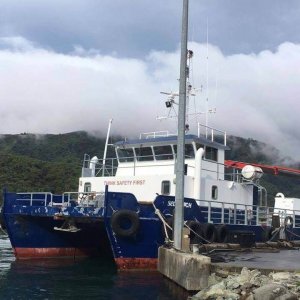 As the demand for their services increased, it became obvious that the next step for MAC was to purchase a multi purpose vessel allowing them to become more self sufficient and expand the range of services they could provide.
After searching internationally, Seawatch, a 23metre Catamaran was purchased from just over the hill in Nelson. Seawatch has a 90 tonne payload with crane and lifting capabilities, making it an ideal workhorse for the aquaculture industry and transport of general freight, fuel, building and construction materials or rubbish and recycling. Modifications are also currently being made to the vessel, allowing them to offer mooring services for Marlborough Sounds residents as of October 2017. The 15-cabin vessel can also transport and accomodate work crews and other personnel in comfort and safety.
Cole and Linnea Warwick and Paul and Tash Luxton are the MAC team. Cole and Paul are out on the water, both qualified Inshore Launch Masters, Marine Hiab and Forklift Operators and Aquaculture Divers. Linnea and Tash are behind the scenes in accounts and marketing. You can read more about the MAC team and the services they provide here on their website.