Marinas information for Alert Level 2 – Updated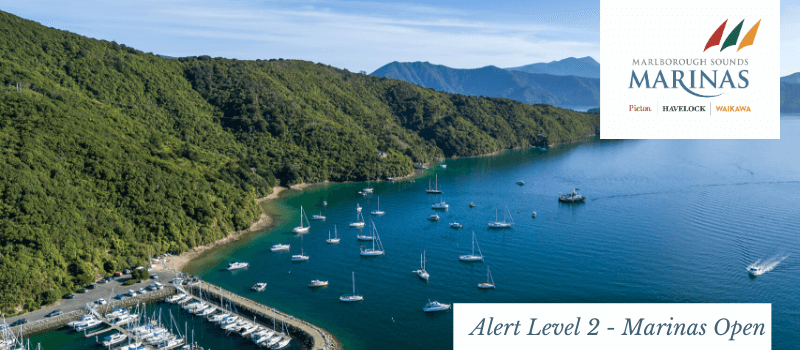 Marinas information for Alert Level 2 – Updated for Wednesday 12th August 2020
Following the announcement on the evening of Tuesday the 11th August, Marlborough will move to Alert Level 2 again in response to community transmission of Covid 19 in Auckland.
As we move back into Alert Level 2, our marinas team will ensure that we are operating the marinas in line with the government guidelines, while keeping the marinas safe for everyone as we did before. Please reacquaint yourself with our guidelines for Alert Level 2 in the marinas, and contact us should you have any queries.
If you're unwell, stay home, and please don't come into the marinas.
Maintain 2m physical distance from people from outside of your household or workplace
Sanitise your hands upon entering any jetties, or prior to using any marina equipment. Hand sanitiser dispensers have been installed and are provided at the entrance of each facility including all jetties, ablution facilities and pay & display machines. Please ensure you use it.
Prior to coming into the marina, please log your visit here on our website.
Click here
This register will only be used to assist in the event contact tracing is required. Ministry of Health QR Codes are also available at each marina office.
If you require work to be undertaken on your boat in the marina or Waikawa hardstand, please note that work can only be undertaken by Marlborough Sounds Marinas registered contractors, who have a Covid-19 safe work plan in place. A list of approved Marlborough Sounds Marinas registered contractors is available here.
Please also note the following:

All jetties with security gates will remain closed 24/7 and accessible by card only
Use jetty fingers if required to enable physical distancing on the main jetty walkway.
Only one customer group will be permitted in the Marina customer Service centres at a time.
If ablution facilities are in use, please wait outside to maintain physical distancing
Marinas staff will be sanitising communal areas multiple times per day (Gates, handrails etc) however please use your own, or the provided hand sanitiser frequently.
Stay safe. Reduce Contact, Reduce Risk, Reduce Spread. Please contact us if you have any queries, and check this page again for any updates.
Please don't hesitate to reach out to your marinas team should you have any queries.
Kind Regards,
From the Marlborough Sounds Marinas Team