Marlborough Sounds Seabed Survey
Marlborough Sounds Survey from NIWA on Vimeo.
Local boat users may have noticed the National Institute of Water & Atmospheric Science (NIWA) vessels Ikatere and Rukuwai at the Waikawa marina, or out on Tōtaranui/Queen Charlotte Sound over the summer months. NIWA are surveying the seabed over 43,000 hectares of Tōtaranui/Queen Charlotte Sound and Kura Te Au/Tory Channel for Land Information New Zealand (LINZ) and Marlborough District Council (MDC).
NIWA are using state-of-the-art multi-beam echo sounder technology to map the seabed in three dimensions. This will provide new hydrographic charts to the highest international standard for safety of navigation. The data will also enable different types of seabed habitats to be determined.
LINZ and the MDC are committed to ensuring that the data collected in this survey programme is made publicly available and at minimal cost. Hydrographic data will be readily available on the new nautical charts for purchase through the regular forums. MDC's cruise guide for the Sounds www.cruiseguide.co.nz will also display the charts.
Scientific information will also be made widely available through charts and posters similar to those produced from the Northwest D'Urville multi-beam survey in 2015. Whilst the hydrographic benefits of the survey are far reaching, it is the MDC/LINZ collaboration to include a scientific research component in the project that makes it truly unique and nationally significant.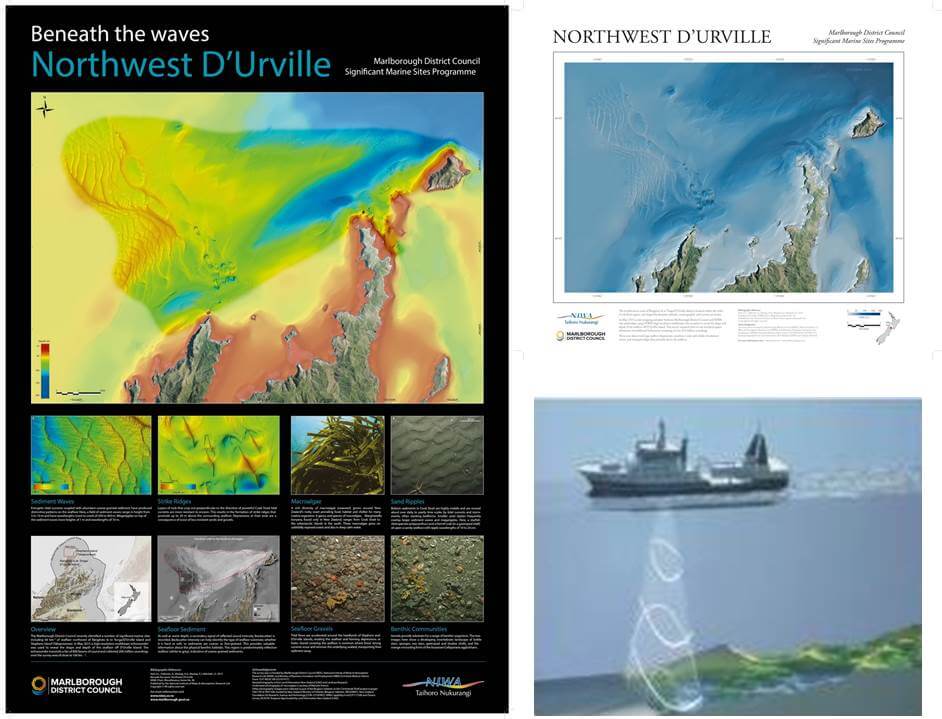 The scientific data collected will lead to an unprecedented understanding of the local marine environment and a heightened community awareness of the value of the Marlborough Sounds. The research programmes and outcomes the data stimulates will be pivotal to the ongoing sustainable management of the Tōtaranui/Queen Charlotte Sound and Kura Te Au/Tory Channel.
Specific deliverables from the project are as follows:
• Accurate characterisation and mapping of seabed habitats.
• Benthic terrain modelling to classify habitats or ecosystems.
• Identification of biogenic (or 'living') habitats important for biodiversity.
• Improved bathymetry and hydrodynamic modelling
• Underwater features revealed that have never been discovered.
• New research avenues for marine science.
• Baseline templates for assessing the effects of economic activity.
• New charts for assisting safe navigation.
The NIWA team report that they have found some possible sites where seabed biodiversity is likely to be high. This bodes well for restoration and recovery of fish communities in the future.
The survey has recently passed its halfway mark, and is on schedule for completion in June 2017. The analysis and preparation of charts, posters and reports will take a further year, and will be available in June 2018.
The NIWA vessels will be flying the black shapes of ball-diamond-ball when on survey. Boaties are asked to keep clear as the vessels are restricted in their ability to manoeuvre, as the surveying requires the vessel to hold its course.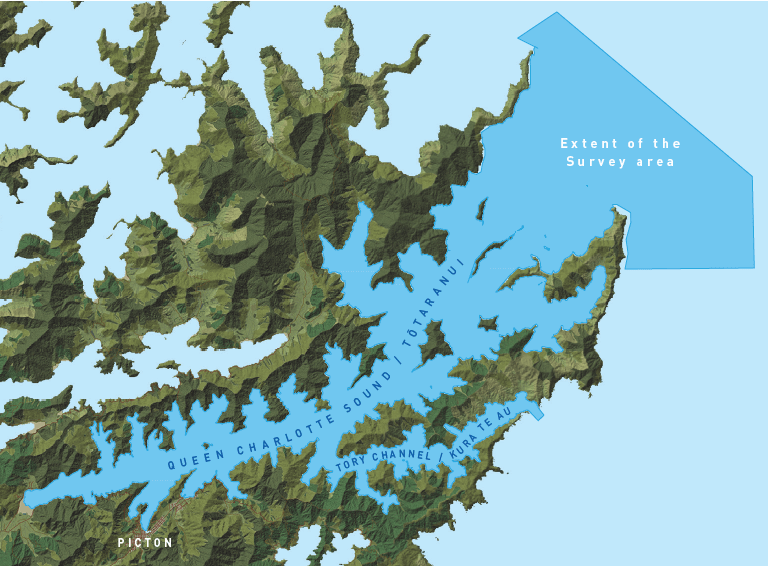 Boaties can find out more information at: MDC Habitat Mapping Link
Or follow the survey here on Facebook and Twitter 
If you have any questions, please contact: Dr Steve Urlich, MDC Coastal Scientist, steve.urlich@malrborough.govt.nz; or 03 520 7400