Divers' Trash to Treasure Competition 2019
Divers "Trash to Treasure" Competition
Marlborough Sounds September 2019
Calling all divers to the first "Trash to Treasure" Competition.  For the month of September, we are asking divers to go out and collect some underwater debris in the Marlborough Sounds.
The Marlborough Sounds is a pristine paradise that we all enjoy as boaties, beachcombers and divers – and we often see what others don't below the surface.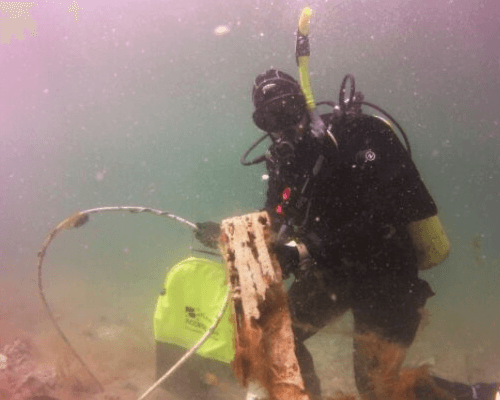 Snorkelers, free divers and scuba divers this is for you. Bring your rubbish to Waikawa Dive Centre and receive points for each piece you deliver.  The divers who collect the most rubbish and gain the most points stand to win some amazing prizes.  You do need to register to enter. This can be any rubbish from a waterway that has been underwater and shows signs of being underwater.
We are partnering with the Waikawa Dive Centre for this great cause, and we have the following prizes to be divided amongst our top 3 divers who bring in the most/most interesting sunken debris!
Lift & Wash for vessel up to 14m (Valued at $398.00),
Annual Launching Passes (Valued at $275.00 each),
Voucher for 3 x Days casual berthage at Picton/Waikawa/Havelock marinas (Valued at $120.00)
The event is also sponsored by Cressi NZ, who have put up some amazing prizes for the top 3 spots.
1st place: Cressi Giotto 2 console rrp $799.99 (Dive Computer with analogue pressure gauge)
2nd place: Gorilla Pro Bag $189.99
3rd place: Cressi Palau set $179.99
Throughout the month of September, Waikawa Dive Centre will also be "giving away" three Search and Recovery Specialty packs kindly donated by Scuba Schools International (SSI).  This course will help improve your ability to search an area effectively and you learn different ways to recover what you've searched for. Waikawa Dive Centre are also offering 50% off scuba air fills for competition divers.
The competition will start on September 1st  and finish 5 pm on September 29th.   A BBQ and prize giving will be held on September 29th  at 5.30pm..  We will also have some fantastic spot prizes on the night. Divers will need to be present at the BBQ to be eligible for prizes.
For a full list of rules and to register please head in to see the team at the Waikawa Dive Centre, or email Waikawa Dive Centre at waikawadive@xtra.co.nz.  Phone 03 573 5939.
Note: Waikawa Dive Centre, all sponsors and anyone connected to organizing this event take no responsibility for the actions, consequences and repercussions of divers partaking in the course of this event. Divers are encouraged to adopt safe diving practices. The organizers reserve the right to amend the terms and conditions should this be absolutely necessary.