Vessel Profile – Bluebridge Rescue
We were privileged earlier this week to have a sneak preview of Coastguard Marlborough's brand new vessel "Bluebridge Rescue" when she was put into the water for the first time on our travel lift at Waikawa Marina. All went well and there were many proud coastguard members, marina's staff and Waikawa marina berth holders overseeing her maiden voyage out for sea trials.
Bluebridge Rescue is named for her primary sponsor, and is the product of many years hard fundraising work by our local Coastguard unit. The high number of inaccessible properties and resorts in the Marlborough Sounds coupled with the expanding recreational  boating and tourism trade in our area has meant that our local coastguard team have been averaging around 5 callouts a month for medical emergencies, and this has shown a great need for a more efficient service to be provided to those requiring assistance.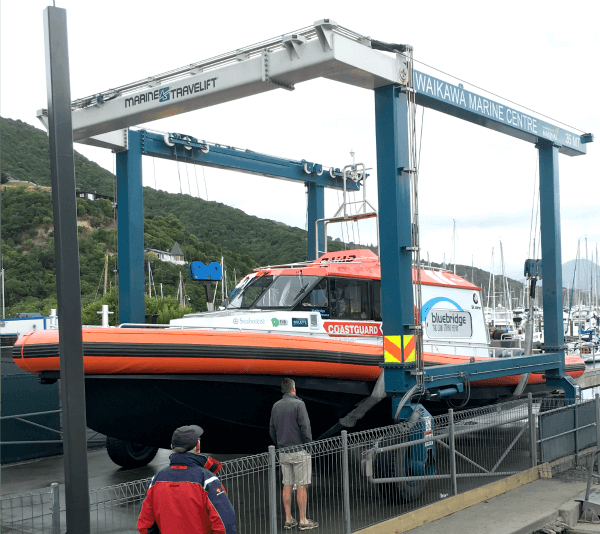 It was a dream of the members to have a fully equipped medevac team able to reach any part of the Marlborough Sounds within half an hour, and this is now possible with Bluebridge Rescue able to reach speeds of up to 50 Knots if required in a medical emergency. The three V8 Yamaha Outboards of 350 horsepower give the vessel 1050 horsepower total.
The unique design is a 14.1m Naiad aluminium hull, built locally by Cuddons Engineering to a Naiad design. It boasts a fully equipped separate medical cabin – with the same interior layout as an ambulance, and the boat is capable of loading patients, crew and passengers directly to and from shore with bow to beach steps. There is also the potential to carry a stretcher around the deck if needed.
We had a chat with Dave St John, Operations Officer at Coastguard Marlborough, who said that there were 70 medical call outs in the Marlborough Sounds in the last year, this being mainly to remote locations such as the baches, boats and resorts which require a lengthy trip by road or are otherwise inaccessible. Having the new vessel is a real feather in the cap for the Marlborough Coastguard, and it is a very reassuring presence for those of us who spend time in the Sounds on a regular basis.
The fundraising target was realised with the help of many sponsors both charitable and private.
$1 Million was raised and the Bluebridge Rescue will be launched on the 30th April at Picton Marina, soon to be her permanent home in a berth on Jetty 2 sponsored by Port Marlborough and Marlborough Sounds Marinas.
Local crew of the Coastguard will be present at the launching along with sponsors and the patron of Coastguard Marlborough – Joe Heberley, who together with his wife Heather will be doing the honours of the ceremonial naming and launching.
Coastguard Marlborough is accepting further donations toward their new vessel and you may contribute by contacting Dave St John on coastguardrescue@xtra.co.nz
We wish them well!