Waikawa Travel Lift operator Jon Askin- Hard Stand specials for winter
On a crisp, still morning at Waikawa Marina, it is easy to forget the stresses of everyday life. It is here that we come to enjoy what others call the 'daily-grind', unable to resist the temptation of working near the ocean.
One of our team members at Waikawa is an ex-miner, trading West Coast bush and rock for Marlborough sunshine and sea. Bringing many boats out of the water every day would be a daunting task for many people. Not,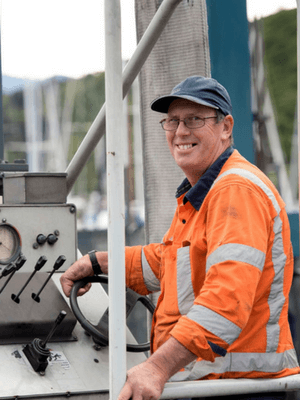 however, for Waikawa Marina Travelift driver Jon Askin. Jon claims his job isn't too tough, with great views and an interesting clientele base.
"Meeting the people who own the boats, that is quite cool, it's definitely the people that make it great."
His office overlooks the boat 'carpark' commonly known as the hardstand yard and has a view over the array of vessels he has parked in each spot.  Five days a week from 8am until 5pm Jon drives the travelift with the help of marina dockhand, Mark Woodmore who acts as his spotter.
Boats are pulled from the water by the hefty vehicle, treated to a water blast and driven to their designated park to be worked on, touched up or made-over. Launches and yachts alike enter the travelift dock over slings which sit in the water and are tightly fit into place before the vessel is hoisted up. The job requires precision and skill and although it may seem like a big responsibility, Jon takes it in his stride.
"You treat all boats with the same sort of respect, regardless of what they weigh. Although in saying that, you do tend to go a bit slower with a big boat". Jon has been with us for almost two years, moving with his family from Reefton where he worked as an Operational Supervisor for a mining company. The 14 years' experience operating large machinery means Jon didn't think twice when offered the opportunity to operate the travel lift.
Along with the confidence to man a machine that lifts up to 35 tonnes of boat, his mining background has kept him in good stead understanding how important health and safety is around the workplace – an absolute must when driving boats around at height.
Jon says the hardest part of the job is waiting for a boat to come into the yard because that means he isn't busy. The easiest part, he chuckles, is when he locks up after a hectic day – and every day is busy during the summer period. Yet even with the pressure of lifting other people's pride and joy every day, Jon is content with the job. "I was brought up around boats. I definitely enjoy it, what's not to enjoy? You get to spend all day outside in this environment."
Between the 1st April and 31st August 2018 book your vessel onto the Waikawa hardstand for a minimum period of two months and receive a 40% discount on the daily hardstand rate. The following conditions apply: 
Discount applies per vessel to hardstand daily rate only
Minimum term of 2 months on hardstand, fees to be paid in advance
Hardstand Winter special discount finishes as at 31st August
Subject to availability
 Contact Waikawa Marina for more information or bookings: waikawa@msmarinas.co.nz or 03 5203395