Havelock and Beyond
Marina Service Improvements
You may have noticed a few changes at Havelock marina over the last few months! We have been making some improvements in services around the marina for our customers. Our new recycling compound is fully operational, and able to take glass, tins, cardboard, and waste oil. This facility is available to marina tenants only, and is open during marina hours – 7.30am to 5pm. In addition, new wash down bays are located in front of A compound for our trailer boat customers.
Slip Inn Brasserie & Bar
The Slip Inn restaurant and cafe is now under new management, and boasts new extensive and flavoursome menus for brunch, lunch and dinner. New manager Ross Sinclair and executive chef Peter Meikle, have implemented some changes which include a range of fresh local fare including King Salmon, Mills Bay Mussels, and homegrown grass-fed beef. The new menu caters to a range of dietary requirements and can be viewed here.
Exec chef Peter trained in England, and traveled for two years with Robert Carrier, forerunner of the television chef, before working in France and the USA. He owned Chatterleys in Ponsonby Rd,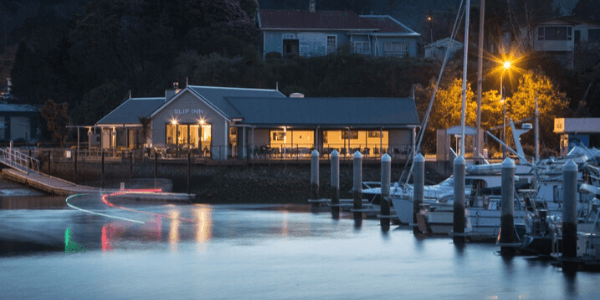 Auckland, which won nearly every possible New Zealand restaurant award and he's tutored widely, cooked at such prestigious venues as Millbrook resort and the famed Wellington Club. He worked on the Shopping Channel as the food presenter for 2 years and has been invited to France to run a cooking school in Avignon for the last 3 years in a row. Peter has a young team eager to learn and serve you at Havelock marina!
Those in a hurry at the marina this summer will be delighted to see the addition of a new pop up takeaway service at the ramp – freshly made barista coffee and home bakes available to nab just as you're heading out the Sounds. Repositioned as a Brasserie and Bar, the Slip Inn can now fully concentrate on serving in-house food matched with an excellent range of beverages. The new menu offers an expanded large influence of healthy, fat free and fibre high food,  and an exceptional beverage list of award wining wines, beers and spirits.
Te Rawa Lodge
Beautiful Te Rawa lodge is located at Wilsons Bay, in the Pelorus Sound – an easy steam out for a nice lunch or drinks on the jetty in their licenced cafe and restaurant. They have some great social events planned over the upcoming season:
Roast dinner and beer with rugby world cup on the 26 Oct and 2 Nov
Three course Christmas lunch on 25.Dec $105 per person with glass of Moet et Chandon (Bookings essential!)
New Years brings a traditional Scottish Hogmanay -three course dinner on 31st Oct. with malt whisky. $ 95 per person.
Te Rawa also offers 7 moorings which are free for guests/diners all season. You can contact them on Phone +64 3 579 8285 or Email thelodge@terawa.co.nz.