Furneaux Lodge & Punga Cove
These fabulous lodges in Endeavour Inlet are ready and refreshed for summer, and looking forward to welcoming boaties and Queen Charlotte Track walkers this season.
With accommodation, restaurant, cafe and bar facilities available at both, they provide a great refreshment stop if you need to re-charge in between fishing and boating, or even just to stretch the legs and try some delicious Marlborough fare, including local seafood, wine and craft beer.
You do need to call ahead by phone or VHF to book a mooring, and overnight stays are available on the moorings for $25 per vessel.
Furneaux Lodge – Boaties Burger & Beer Deal for $30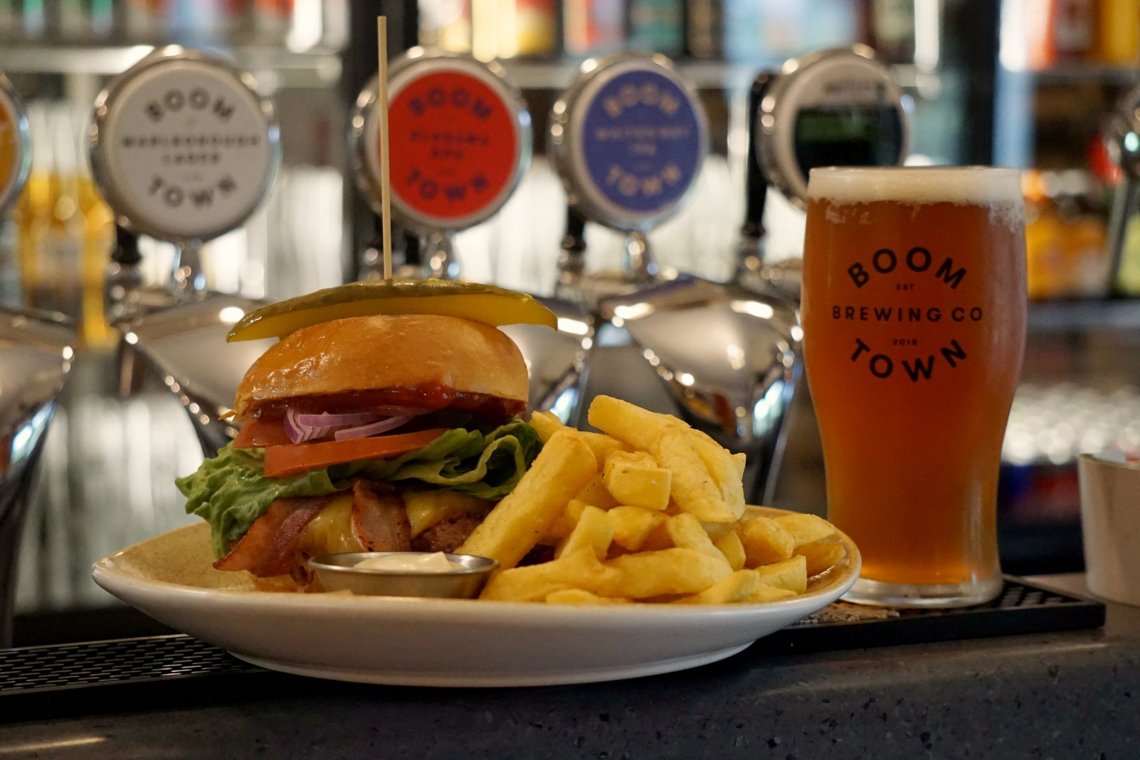 This summer, the Furneaux crew have come to the party with a special offering for our boaties for lunch / dinner at the restaurant and cafe. Enjoy a Furneaux Burger with chips and a pint of locally produced Boom Town Beer for $30. Valid until end of January 2021.  Quote this deal at the Furneaux Lodge restaurant when ordering.
Dining
Fresh, local, seasonal cuisine
The Winter Lunch & Dinner menu offers delicious casual dining from coffee and snacks in the morning, lunch from noon, snacks with afternoon drinks, and dinner in the evening till 7.30pm. Furneaux has a well-earned reputation for serving fresh, local, seasonal cuisine.  Dine alfresco on the covered verandah or on the lawn and enjoy the sea and native forest views, or eat indoors beside the fire.
Boaties can use VHF 63 – give them a call before you arrive.
GROUPS
The lodge can cater for groups of up to 65 people for exclusive gatherings or dinner parties.
Furneaux Lodge: -41.09261507190771, 174.1877932555173
Endeavour Inlet, Queen Charlotte Sound, Marlborough, New Zealand
Dining
The Boatshed Café & Bar
Open daily 9.30am, dining 11am-6.30pm – see the all-day menu…
Soak up the sun and the water views at the Boatshed Café & Bar while you enjoy coffee, drinks, snacks, lunch or dinner. The historic Boatshed where many well known boats have been built is now a unique establishment, set right over the water with a large jetty area & outdoor seating. Fresh homemade stone-baked pizzas and delicious bar meals and snacks are cooked to order.
The fully licensed bar serves a great range of local craft beers, Marlborough wines, cocktails, soft drinks and espresso coffee.
Punga Fern Restaurant & Bar
Open daily for buffet breakfast 7.30-9.30am 
Open daily for à la carte dinner 6-9.30pm – see the dinner menu…
The smart casual award-winning restaurant offers à la carte dining with a local flavour. The restaurant seats forty people internally and additional seating is available outside, weather permitting, on our three elevated decks that surround the restaurant.
Their dishes are refined with Marlborough's finest produce, wild game and seafood plus a little spice and flavour. The cellar offers some of Marlborough's best wines, and a wide selection of non-alcoholic beverages as well as beers, spirits, and cocktails are available.
Punga Cove Resort: -41.12913837748059, 174.15081237078564
Endeavour Inlet, Queen Charlotte Sound Marlborough Sounds, New Zealand