Waikawa Travel Lift & Hardstand
Waikawa Marina Travel Lift & Maintenance Hardstand:
It's that time of year when we turn to spreading the word again amongst our Hardstand customers to encourage making early travel lift and hardstand bookings for their vessels. July has been unseasonably busy on the hardstand and if reports from our marina tradesmen and forward travel lift bookings are any indication it's going to be busy leading up to summer.
Book your slot now, avoid disappointment and be ready to enjoy spring and summer on the water, not stuck on the hard!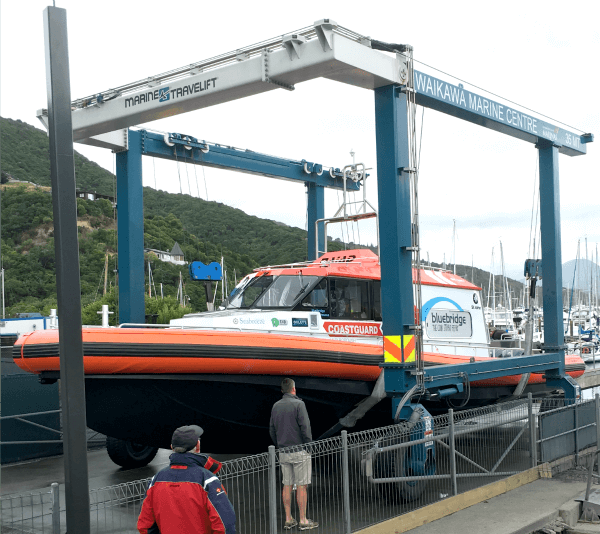 Here are a few key pointers and guidelines concerning the hardstand to help make your vessel haul out proceed with no issues and to also help protect our environment.
Travel lift sling positioning stickers should be attached to vessel hull topsides to indicate lift points. Talk to our Hardstand staff if your vessel doesn't have these as we have complimentary stickers available and can help affix them to your vessel.
If your vessel is being slipped turn off auto bilge pumps to ensure no discharge of bilge water occurs on our hardstand or on personnel working under your vessel.
Remember that only marina hardstand staff may adjust vessel stands and cradles. Adjusting stands yourself could affect your vessel insurance.
Do not dispose of solvents, paint or any other toxic material into the hardstand drainage system.
Protect your health by wearing overalls, gloves and mask when removing or applying paint, especially antifoul paint. PPE items can be obtained / purchased through our hardstand staff.
Travel Lift and Hardstand bookings can be made by contacting Waikawa Marina on 03 5203395 or emailing the team on waikawahardstand@msmarinas.co.nz